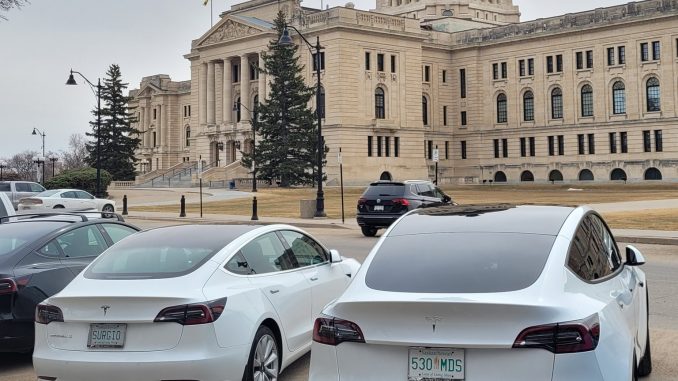 Saskatchewan introduced a new EV tax in the 2021 Provincial Budget earlier this week. The tax, which is $150 for each passenger EV, will go towards highway maintenance in the province.
The tax was the brainchild of Finance Minister Donna Harpauer. Who saw EV owners not contributing to highway maintenance through traditional methods such as taxes collected on gasoline sales.
Opponents of the tax wish they were consulted on the tax before seeing it hit the budget last week. Most opponents would prefer the tax go towards EV infrastructure rather than the overall road maintenance budget.
The Saskatchewan Electric Vehicle Association is at the forefront of the opposition and staged a protest in front of the Saskatchewan Legislature yesterday. They look to meet with MLAs to discuss options moving forward.
Great gathering today at the Saskatchewan Legislature today. Let's start a real conversation about tax fairness for EV's and the fast charging infrastructure required. Consultation before taxation. @TeslaOwnersSK @saskevca pic.twitter.com/FZMlC1W2jR

— SEVA (@pluginsask) April 11, 2021
This is the first tax of its kind in Canada, and currently, Saskatchewan is lagging in terms of EV infrastructure.
Many provinces have seen private and public power companies lead in building and supporting EV infrastructure. However, SaskPower has not, and many EV owners would like to see this change.
We drove together today to bring attention to @SKGov proposing Canada's first electric vehicle tax this week while many provinces fund EV incentives and highway fast charging infrastructure. ⚡️ pic.twitter.com/4pjggdsGXe

— SaskEV (@saskevca) April 10, 2021