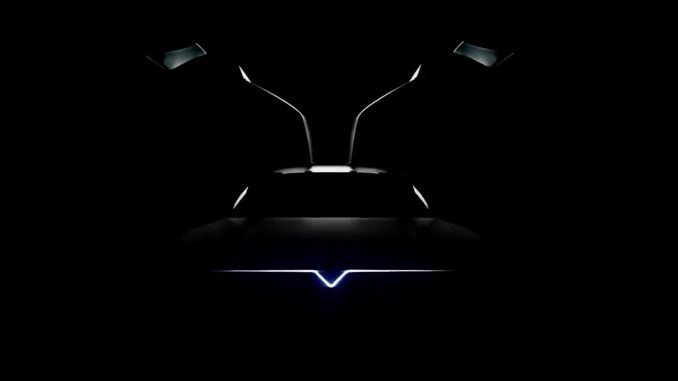 DeLorean Motor Company (DMC) is well known for their one and only vehicle, the stainless steel, gull-winged DMC DeLorean made famous by the Back to the Future movie franchise.
More than 30 years later, it looks like the Texas-based automaker is going to attempt to enter the electric vehicle (EV) market.
In a short teaser video shared on Twitter yesterday, DMC says a new DeLorean will premiere this year.
The hashtags #DeLoreanEVolved and #ElectricVehicle were included in the tweet, leaving little doubt as to the car's powertrain.
The Future was never promised. Reimagine today.
Sign up for the premiere of the DeLorean in 2022.
https://t.co/K9n8D1s5uK#DeloreanEVolved#Delorean#Auto#ElectricVehicle#Luxury#BigGame pic.twitter.com/99HsGLCswb

— DeLorean Motor Company (@deloreanmotorco) February 13, 2022
As you can see, the company doesn't reveal much, except for the unmistakable silhouette of the gullwing doors from the original.
With the 'V' animation by the car's front grill (seen in the image at the top of this article), it also looks very similar to the Model X.
But that is actually one of their new logos, which the company applied for a trademark for just last week. (via NewNissanZ)
DMC hasn't officially commented on when we will get to see this new car, but we hope it will be soon.