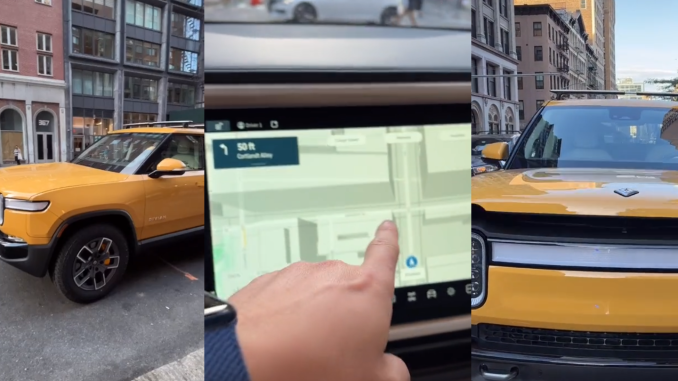 Even though Rivian has handed over the first few R1T electric pickup trucks to longtime employees, fans are still eagerly awaiting for the first customer deliveries to begin.
Leading up to those deliveries more videos of the electric truck have been appearing online thanks to the company's First Mile test drive tour happening across the United States.
After kicking off the tour in Normal, Illinois last week, they made a stop in New York City. That was when YouTube and Tik Tok'er Sam Sheffer got his hands on a Compass Yellow R1T, and in a short 2-minute video he gives us a quick look at some of the truck's interesting and unique features.
Sheffer shows off the auto-opening and closing frunk, the automatic tailgate, gear tunnel, and roof racks that easily come off the truck without any tools.
We also get to see the included flash light and portable Bluetooth speaker.
If you are hoping for a detailed review of the R1T, then you might want to skip this video. Otherwise, you can check it out below.