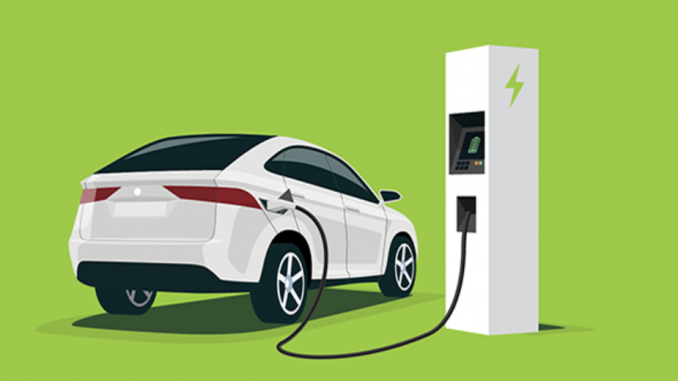 Q1 2022 was a good quarter for zero-emission vehicle (ZEV) registrations here in Canada.
According to London-based IHS Markit, zero-emission vehicles made up 8.3 per cent of new vehicle registrations in Canada between January 1 and March 31.
Almost one out of every twelve vehicles registered was either an EV or a plug-in hybrid.
According to IHS Markit, the increase is due to a few reasons.
Inventory constraints, new BEV and PHEV entrants, and increased fuel prices have accelerated the uptake of BEV and PHEV vehicles in the Canadian market.
In an interesting twist, battery electric vehicles (BEVs) are pushing new registrations.
In fact, BEVs jumped to 6.2 per cent of new registrations from 4.2 per cent of new registrations in Q4 2021. While in comparison, plug-in hybrids fell slightly quarter over quarter.
British Columbia and Quebec are still well ahead of the other provinces in terms of provincial breakdown.
ZEV registrations in British Columbia made up 17.1 per cent of the total market share, up from 13.1 per cent in the previous quarter. Next was Quebec where zero-emission vehicles hit 13.6 per cent.
Here is the breakdown for the rest of the country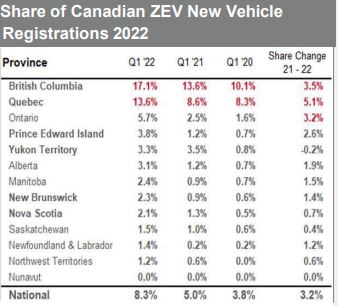 Interestingly, Vancouver continues to be the leader in terms of cities with 21.6 per cent of new registrations being zero-emission.
Montreal trails Vancouver at 17.1 per cent, and Toronto is still in the single digits at 7.6 per cent.
You can read the full report here.