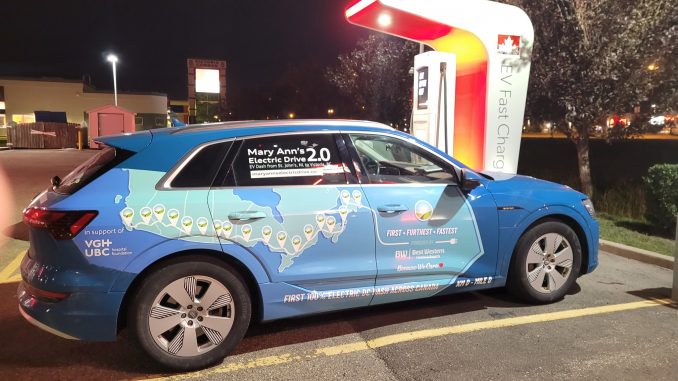 Two Canadians have just set a record for what is believed to be the fastest drive across Canada in an electric vehicle (EV).
Harvey Soicher and Kent Rathwell drove their Audi e-tron from the eastern tip of Canada in St. John's, Newfoundland to Mile Zero in Victoria, B.C. in four days and 19 hours.
Thanks to the recently opened EV charging network in Newfoundland & Labrador, the pair departed St. John's just before 9:00am on Monday, September 13, dipping the front wheels of their Audi in the Atlantic Ocean.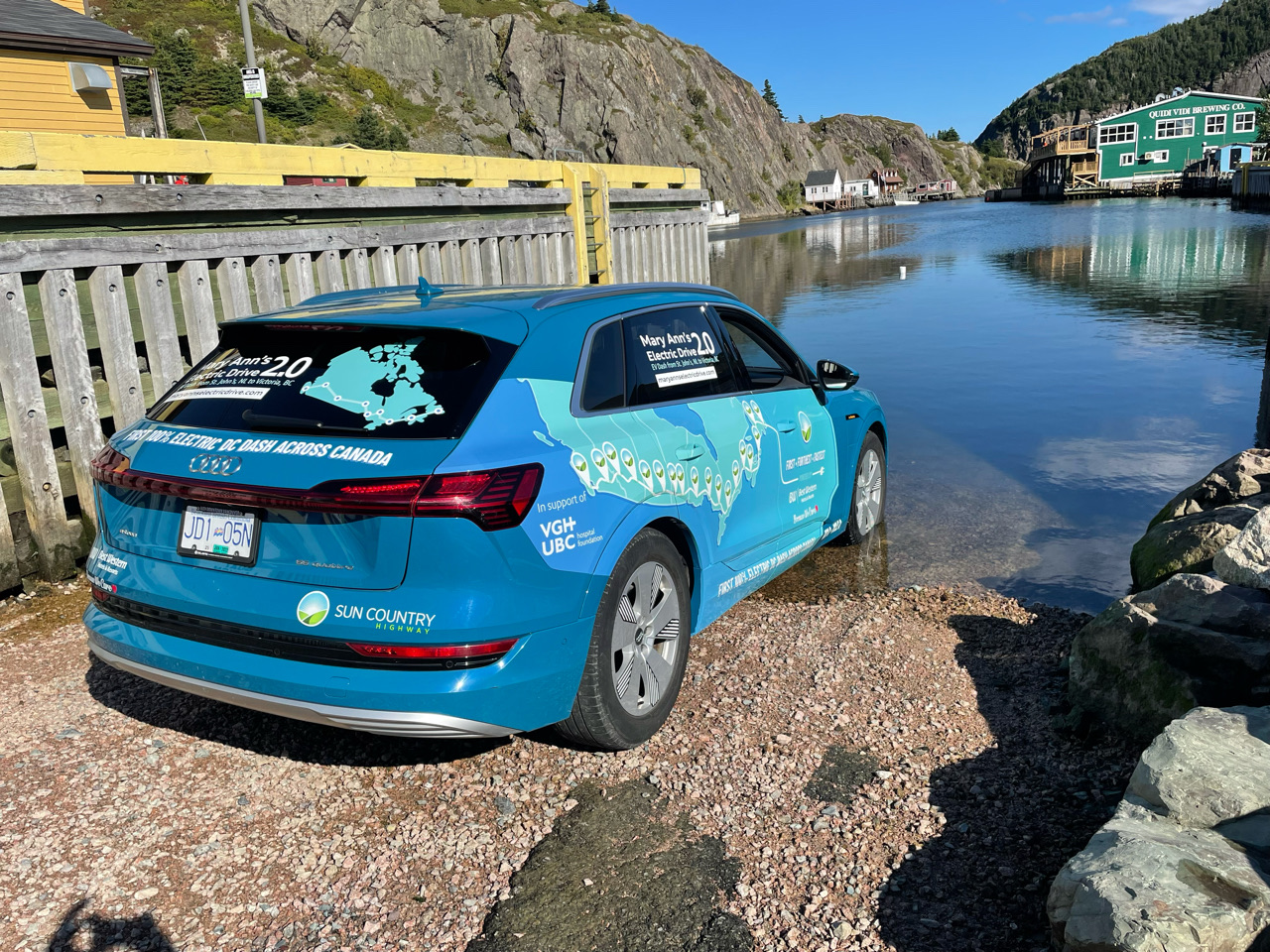 Just under five days later and many Petro-Canada and Electify Canada charging stations later, they arrived in Victoria a few minutes before midnight. Due to the time of night they didn't take their ceremonial dip in the Pacific Ocean until the next day.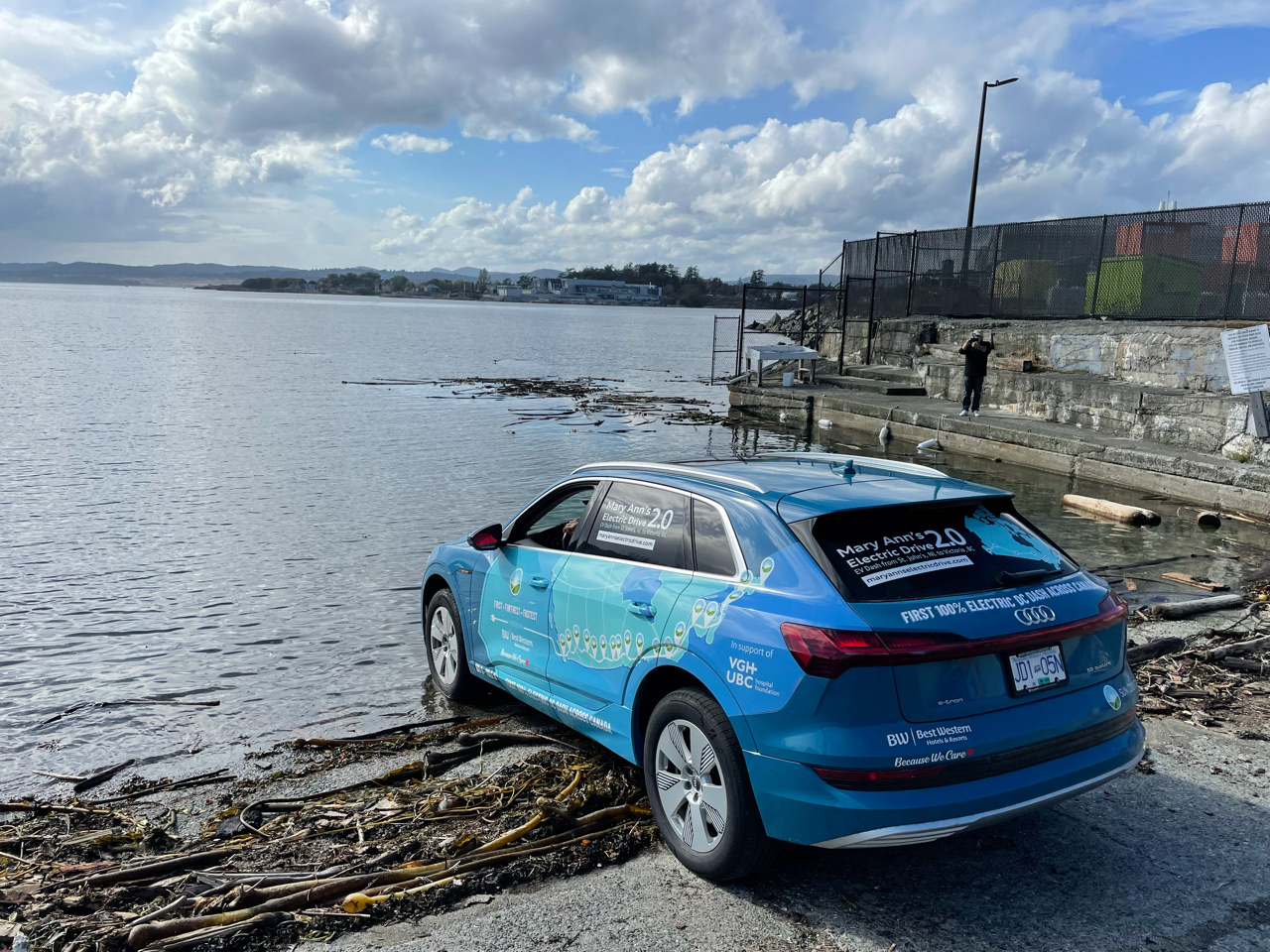 This isn't the first time Soicher had driven across Canada in an EV, although this dash is much faster than his previous time from two years ago of 63 days. In an interview with CBC News, Soicher said even if he had attempted a record in 2019, he wouldn't have been able to come close to the same time because of the lack of fast charging infrastructure across Canada.
Since then Petro-Canada has opened a network of chargers from coast-to-coast. Electrify Canada has also opened a number of stations in Quebec, Ontario, Alberta, and British Columbia. Add in provincial and third-party fast chargers and a cross-Canada drive in a non-Tesla EV is now a possibility.
The trip was made in honour of Soicher's late wife Mary Ann. The couple had planned to make the same journey together, but she unfortunately passed away from cancer in 2019 before they could make it a reality.
You are probably thinking to yourself didn't a Tesla drive across Canada with a much quicker time. If you did you are correct, but the two attempts are set apart because of how far they travelled.
In March 2020 Ian Pavelko and Trev Page embarked on their FAST EV Lightning Run across Canada, completing their coast-to-coast trip in a little under 3 days and 2 hours (73 hours 27 minutes). The difference is they travelled 6,131km from Tsawwassen, BC to Halifax, Nova Scotia. Soicher and Rathwell travelled more than 7,000km, which included ferries to get off Newfoundland & Labrador on the east coast and onto Vancouver Island on the west coast.
Another difference is Page and Pavelko completed their trip in the depths of winter, where as we all know cold weather significantly impacts range.
You can read more about their epic journey across Canada here.