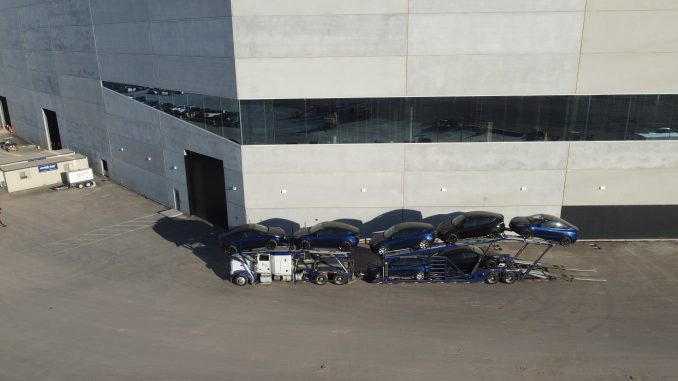 With the opening of Giga Berlin officially out of the way, Tesla is now focused on opening their other new factory, Giga Texas.
While the automaker continues to wait for final certification to begin production, two truck loads of the electric SUVs were seen leaving Giga Texas this morning.
Captured in a drone flyover by Joe Tegtmeyer, seven Model Ys were loaded onto each one of the two transport trucks.
The trucks featured a mixture of black and blue Model Ys with both 19″ Gemini wheels and 20″ Induction wheels.
The destination of these Model Ys is unknown, but it is unlikely they are for customer deliveries. None of them appear to have the white protective film, either on the bumpers or on the window trim and door handles, that is typically present on cars leaving the Fremont factory.
This sighting follows another just a few days ago of the first made-in-Texas Model Ys at a public Supercharger. Two Model Ys were spotted a public Supercharger in Round Rock, Texas, both of which were being used by Tesla Energy employees.
We will update this article once Tegtmeyer releases the drone flyover video later today.
https://twitter.com/JoeTegtmeyer/status/1506644383923425292