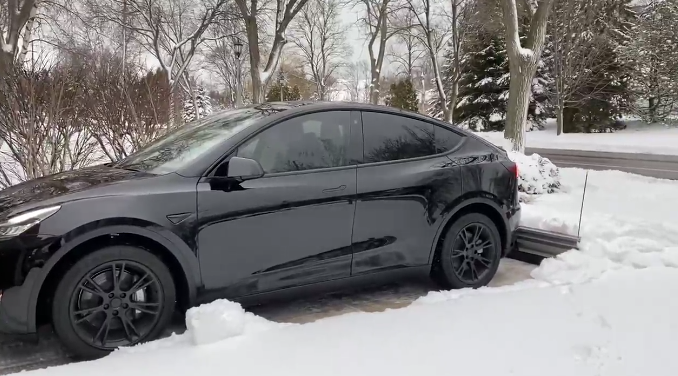 This article contains a warning: only continue reading if you definitely don't want to turn your Tesla into a snowplow.
Gone are the days of bundling up and heading out to clear the snow from your driveway with your trusty snow shovel or snowblower. If you have a Tesla and trailer hitch, you can do it from the comfort of your pre-heated electric vehicle.
The idea comes from u/Educational_Plum7528, who posted a video of his blacked out Model Y clearing his driveway of about 20cm of snow with ease.
According to the creative owner, his Model Y snow plow performed extremely well in the snowy conditions. He did note that "wheel slip limits a slow push but with speed I didn't have any problems."
If you also want to create this ultimate Canadian setup, all you need is a trailer hitch on your Tesla and purchase the Snowsport 180 Utility Plow that attaches to any standard 2″ receiver. This solution isn't cheap, as it costs $1,199 USD ($1528 CAD). But when you compare it to some high-end snowblowers that cost close to the same amount or even more, I know which one I would pick.
As the owner puts it, "I can install the plow in my garage, turn on the rear camera and push snow in my pajamas from the warmth of my ride while sipping a hot coffee."