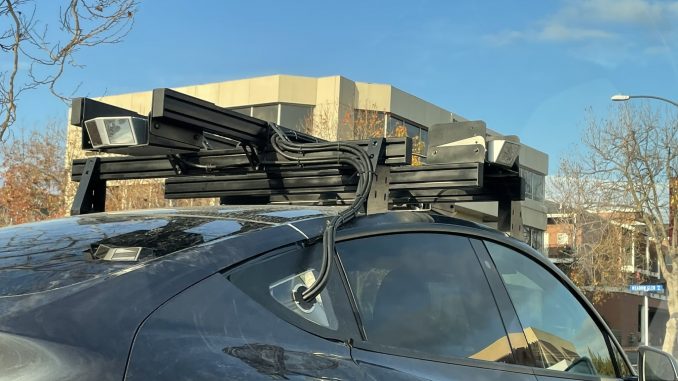 While Tesla continues its push towards Full Self-Driving, a Model Y with a rather large amount of unique imaging equipment was spotted driving around the Bay Area yesterday.
The first sighting happened early yesterday morning, where a Model Y with Tesla's manufacturer plates was spotted in Millbrae, just south of San Francisco.
Funky looking Model Y with imaging equipment mounted atop pic.twitter.com/z2iqFkUVIE

— You You Xue (@youyouxue) December 28, 2020
The same vehicle was spotted later that night by our friends at The Kilowatts, driving around downtown San Francisco.
Engineering Test Model Y rocking a new set of sensors! #Tesla #ModelY #Autopilot #FSD #FSDBeta pic.twitter.com/p2W8XQ5MWR

— The Kilowatts 🚗⚡️ (@klwtts) December 29, 2020
While Tesla doesn't officially comment on situations like this, this isn't the first time a Tesla outfitted with similar equipment has been seen out in the wild. In July we told you about a Model 3 and a Model S with the same sensor rig on top of the vehicles.
Interesting cameras on these #Tesla's with manufacturers plates. According to someone who chatted with the driver at a Supercharger, they "are for additional learning for the full self driving roll out." Have you heard of/seen these before @greentheonly? (Images via FB). pic.twitter.com/0b12bMKZVE

— Drive Tesla 🇨🇦 #FSDBetaCanada (@DriveTeslaca) June 10, 2020
From that sighting we learned the equipment is Luminar LiDAR sensors, and the rig on the Model Y appears to be identical.
CEO Elon Musk has made it pretty clear he is not a fan of LiDAR, saying he wouldn't use it even if the equipment was free. So why is Tesla using LiDAR on these test vehicles? The most likely scenario is the sensors are being used to validate the information gathered by Tesla's existing sensor suite as it continues its push towards autonomy.
Tesla first released its FSD beta software to a small number of testers in October. Musk had hoped for a wide release before the end of the year, but with just days to go it looks like that will happen in early 2021 instead. Canadian Tesla owners will also be getting it in 2021, with Musk saying last week it was coming north of the border "very soon."