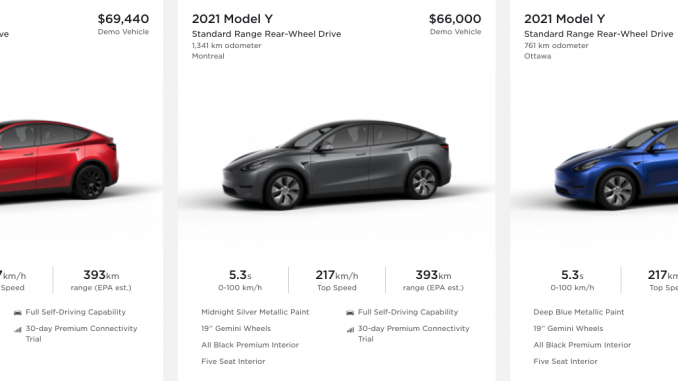 Tesla cancelled the Standard Range Model Y last week, killing it off less than two months after it was first introduced. We have since learned the electric SUV will no longer be made, meaning if you didn't already have one on order, you were basically out of luck.
As we suspected yesterday, hearing that Tesla has in fact cancelled the SR Model Y and will no longer be making it. @elonmusk's comment was in reference to existing inventory, which will be depleted very soon. If you want one, best to call Tesla directly to find one for you.

— Drive Tesla 🇨🇦 #FSDBetaCanada (@DriveTeslaca) February 23, 2021
New vehicles that weren't already allocated to a customer have all been sold. But you may have one more chance to buy the SR Model Y in Canada as demo vehicles (i.e. test drive vehicles) are now available on the Existing Inventory section on Tesla's website.
At the time of publication, there are 13 different vehicles available across Canada. Your best bet is if you live near Toronto with 6 demo vehicles available. Vancouver has three, Calgary has one, two are in Ottawa and one in Montreal.
All are equipped with Full Self-Driving (FSD) meaning the prices range between $65,000-$70,000. We have been informed Tesla can remove FSD before you buy in the US, but have not been able to confirm this applies in Canada as well.
Click here to check out the Existing Inventory section on Tesla's website. You must select "New" as the Inventory Type filter.