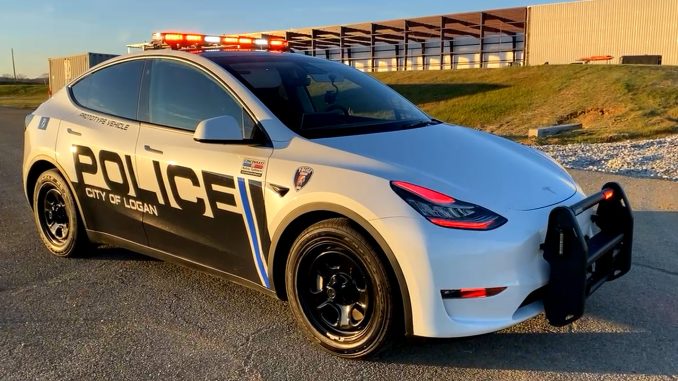 Earlier this year the Logan Police Department in Ohio became the first in the state to announce the purchase of Tesla Model Ys to be used as police cruisers.
After a lengthy process to convert them for police use, the first of two Model Ys has been unveiled by the department this week.
The Model Y has been outfitted with a LED light bar, push bar, prisoner partition, full markings, police computers, and a custom set of wheels.
According to the Logan PD, the Model Y will be operated on the same schedule as their gas-powered police cruisers. It will run one shift, and then be off for two, allowing more than enough time for it recharge on one of two Wall Connectors that have been installed at the police department headquarters.
Logan Patrolman Gadrim seemed particularly excited about the Model Ys quiet electric motors.
"I like to cruise around at night at like 2mph with no lights on and stuff to try to catch people breaking into stuff. This is going to be great, they won't hear this coming," he said in a now deleted Facebook video.
Logan joins a growing number of police departments across the US that are switching to electric cruisers, with most selecting Tesla.
The Model 3 used to be the go-to choice, but the Model Y is quickly proving popular for its versatility and increased storage space compared to the electric sedan.
Other police departments to recently add the Model Y to their fleet include Fremont, Boulder, and Spokane, to name a few.
Tesla Model Y joins Fremont Police Department after successful Model S pilot program [Update]