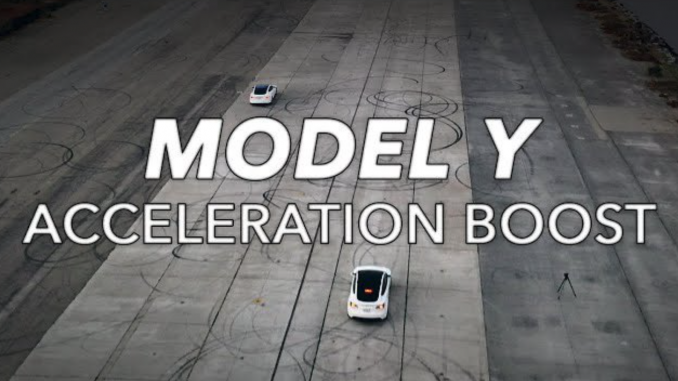 Tesla recently surprised Model Y owners with the gift of the Acceleration Boost, a $2,700 CAD ($2,000 USD) upgrade the automaker claims will lower your 0-60mph time by half a second.
One of the first owners to purchase the upgrade was our friends at The Kilowatts, who installed it on their Long Range Model Y.
Ryan Leveson, host of The Kilowatts, recently took his Model Y out to test and see if the upgrade was noticeable, and if the half second claim by Tesla was accurate.
Before the over-the-air update, the Model Y recorded a 0-60mph time of 4.84 seconds. If you've driven an electric vehicle before, you know the instant acceleration can start to level out at higher speeds. During the same run, the electric SUV accelerated from 30mph to 70mph in 3.63 seconds.
After purchasing the upgrade, the 0-60mph time dropped by slightly more than the advertised half second, down to just 4.33 seconds. Not bad for a heavy family SUV.
The time it took for the Model Y to go from 30mph to 70mph also improved significantly, dropping 0.37 seconds from 3.63 seconds to 3.26 seconds.
So ignoring the fact that your car can get that much quicker by simply pushing a button on your mobile phone, is the Model Y Acceleration Boost worth it? Levenson tells us he's undecided, but he is in a bit of a unique situation being the proud owner of several Tesla's, including Performance variants.
He does say though that if this was his only Tesla, the upgrade is definitely worth it. Check out the full video below.
Have you purchased the upgrade? Do you think it's worth it? Let us know in the comments below.