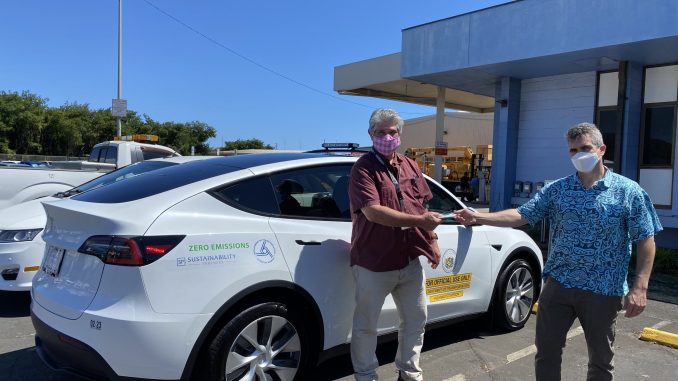 The Hawaii Department of Transportation (HDOT) has taken the first step to electrifying their fleet this week by taking delivery of a Tesla Model Y.
The white Model Y is the first of ten EVs scheduled to arrive soon that will replace existing vehicles that have reached their end of life. Adding EVs to their fleet will have a big environmental impact, saving thousands of pounds of CO2 from entering the atmosphere.
"Each EV replacing an internal combustion engine vehicle will save an estimated 8,700 pounds of carbon dioxide annually. For this first round of 10 EVs that would be approximately 87,000 pounds of carbon dioxide that will not be released into the atmosphere."
The HDOT won't actually purchase any of the EVs, which will include Nissan, Ford, Kia and Chevy EVs. The government agency instead signed a 10-year service contract with Sustainability Partners. This allows them to procure the EVs and related charging infrastructure on a per-mile cost basis.
"Use of this service contract is expected to save approximately 75-percent in vehicle maintenance over the lifespan of the vehicle and an average of $287 per vehicle per year in fuel costs."
Showing they are serious in wanting to convert their entire fleet of about 300 internal combustion engine (ICE) vehicles, an additional 34 EVs will arrive by the end of May. HDOT plans to be fully electric by 2028.