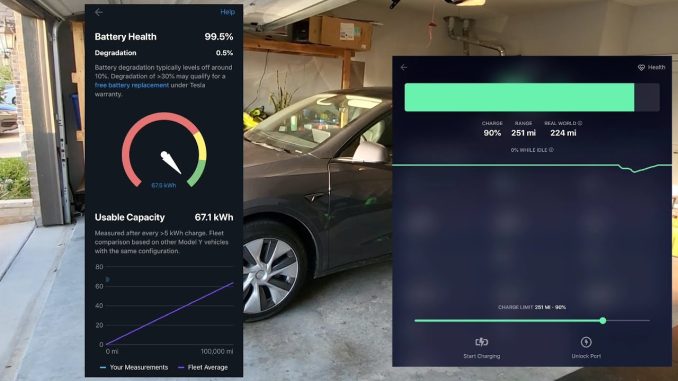 In his latest video, a YouTuber took a deep dive into all the data on his new 4680 Tesla Model Y and the battery's usable capacity.
The Spoken Reviews video detailed the Tesla Model Y's battery numbers over three days.
As per the available data, the usable capacity of the new 4680 battery was 67.5 kWh.
Spoken Reviews used two different methods to come to this conclusion.
The first was through the Tessie app, which is not 100 per cent accurate but is a top-rated app on the Apple and Google app stores.
The second way was visits to two Superchargers and performing the required math using battery percentages and amount of charge added.
The video goes on to note that the range of the Model Y is listed at 279 miles. However, it depends on your driving, location, and other factors. The Tessie app showed a real-world range of 221 miles (355km) at 90% state of charge based on the last 30 miles of driving, which according to Spoken Reviews was mostly done at 85mph (136km/h), so the consumption would be higher than normal.
The Model Y also provides a real-world calculation of the range, and after a couple of days, it seemed to be the most accurate.
In another video, he reviewed the Tesla charging speed and noted that the new 4680 is a little slower than the previous battery version. Spoken Reviews also discovered his Model Y now has the Acceleration Boost available to it.
Although many in the industry believe that Tesla will increase how much range they can squeeze out of these new batteries through software updates, it looks like you should expect 67.5 kWh for the 4680 Model Y for now.
You can take a look at the video for yourself down below.