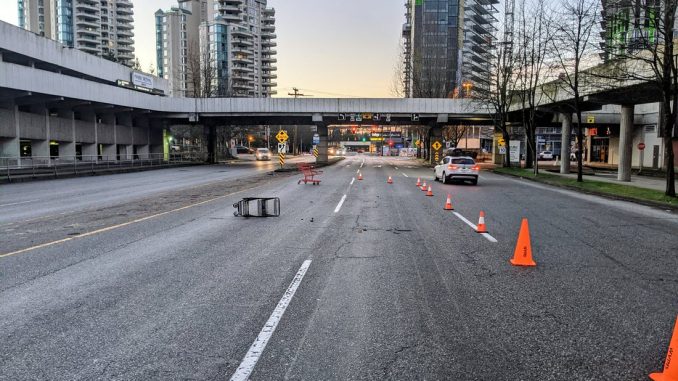 Police in West Vancouver, British Columbia are seeking the public's assistance in locating a Tesla driver involved in a hit and run that left a pedestrian with non-life threatening injuries.
The incident occurred on the 400 block of Taylor Way at Clyde Avenue when the 58-year old victim was attempting to cross the road with a shopping cart at around 7:00am this morning. According to West Vancouver police spokesperson Kevin Goodmurphy, a white Tesla Model X coming down the hill struck the pedestrian, did not stop, and immediately left the area.
Fortunately the victim received only non-life threatening injuries, and was taken to hospital as a precaution.
While witnesses were unable to get a license plate, the vehicle is described as a white Tesla Model X. It will likely have damage to the driver side headlight and front quarter panel. It was last seen heading towards the Lions Gate Bridge.
Anyone with information about the incident is asked to contact West Vancouver police at 604-925-7300 and reference file #21-636. Information can also be provided anonymously through Crime Stoppers by calling 1-800-222-8477 or online at www.solvecrime.ca
"We believe that the driver would have known that they had hit someone," says Cst. Kevin Goodmurphy. "We are asking for the public's assistance to help investigators identify the person responsible and to gather more information." 
UPDATE: Last night a 91-year old suspect turned himself in to West Vancouver Police. They will not be releasing further information.
"The driver contacted us last night after seeing the media coverage," Goodmurphy told NSNews. "He has been identified as a 91-year-old man from West Vancouver. He has provided a statement and investigators are determining next steps."