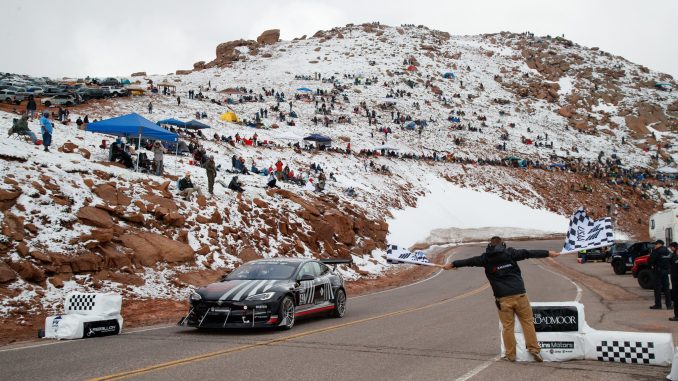 Even though Mother Nature tried to throw a wrench into the plans, Randy Pobst and the team at Unplugged Performance were able to win the Exhibition Class at the Pikes Peak International Hill Climb (PPIHC).
After a disappointing event last year in a Model 3, Pobst didn't hold back behind the wheel of his new Model S Plaid, setting a scorching time of 6:57.220 on his drive part-way up the mountain. The course had to be shortened on Sunday due to snow at higher elevations earlier in the day, but the teams suspects their time would have been about 9:20 if they had run the full course.
Teslaquila Time!
Celebrating Our King Of The Mountain @PPIHC Exhibition class win with @RandyPobst, @bilsteinUS, @YokohamaTC!
What a team! What a car! Thanks @Tesla for developing this mind warping alien technology for us to race. pic.twitter.com/0Vi5gfiPn7

— UNPLUGGED PERFORMANCE (@UnpluggedTesla) June 27, 2021
Pobst's winning time in the Exhibition Class was a full 17 seconds ahead of second place Nick Robinson, who completed the course in his 2017 Acura NSX in a time of 7:14.704. Third place was nearly a full minute behind Pobst, as Jordan Guitar crossed the finish line in his 2021 Acura TLX in a time of 7:53.615.
The time wasn't just quick in the Exhibition Class, it was also a very fast time overall. The Model S Plaid was the 10th fastest car out of 55 cars competing on Sunday. In a comment on his Instagram account after the race, Pobst said the power of the Plaid was unlike anything he has ever driven before.
"[It] drives off a corner like nothing I have ever tried. Over 1000 lb-ft of instant torque and all-wheel-drive. And we made the Fast Fifteen (We are 10th overall, 1st in Exhibition w a new record time), a new honor at Pikes Peak."
Two other Tesla vehicles competed in the hill climb. Joshua Allen clocked a time of 8:16.778 in his 2021 Model 3, and Dajiro Yoshihara completed the course in 11:41.162 in his 2018 Model 3.
You can watch the winning run from inside the car in the video below.