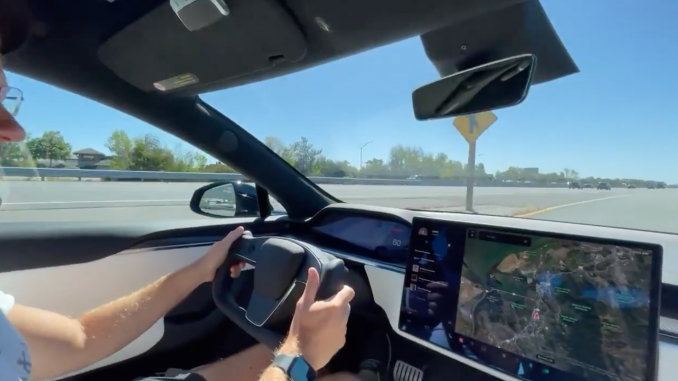 After a longer than anticipated wait, Tesla finally delivered the first 25 Model S Plaid vehicles last week. The cars were delivered to lucky owners at a delivery event at the Fremont factory, where attendees got to experience the Plaid's acceleration in a short sprint on the test track.
One of those lucky owners was Emmet Peppers, who has shared a few videos showing the real-world acceleration of Model S Plaid.
The first video was taken on June 10, the same night as the delivery event. After activating Launch Mode, Peppers smashes the accelerator with the car reaching 60mph in about 2 seconds and the all-new Plaid animation playing on the instrument cluster display.
First tesla Plaid launch pic.twitter.com/MLgWTKYN5T

— Emmet Peppers (@EmmetPeppers) June 11, 2021
Clearly not getting bored with the acceleration, Peppers takes the car in another video from a standstill to above 90mph (144km/h), all in about 4 seconds. You can tell from the reaction of his passenger that the extreme g-forces make it hard to lift yourself off the seat back.
— Emmet Peppers (@EmmetPeppers) June 11, 2021
We will no doubt be seeing more videos like this in the coming weeks and months. Elon Musk said at the delivery event they will begin delivering several hundred cars per week soon, increasing to one thousand cars or more per week in the near future.
https://twitter.com/DriveTeslaca/status/1403202841557168131
In case you missed it, you can also check out videos of the acceleration taking during the delivery event here.