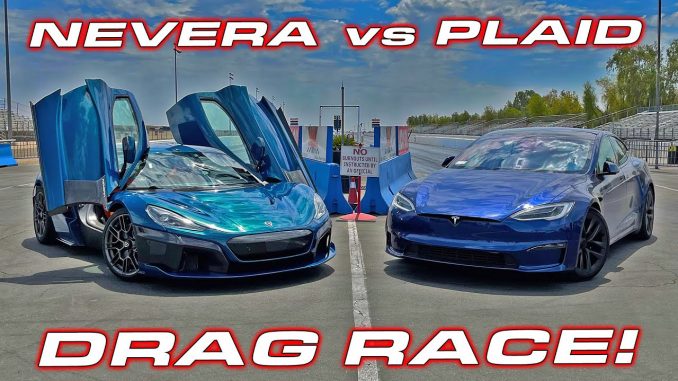 Earlier this year the Tesla Model S Plaid broke the record for the fastest production car over the quarter-mile with an official time of 9.23 seconds at 152.16mph (244.88km/h).
The record was set by Tesla themselves at the Famoso Raceway in Bakersfield, California.
Not wanting to be outdone, the Rimac Nevera then entered stage left, and recently claimed a blistering 8.582 second quarter-mile time, also at Famoso.
Everyone wanted to see the two electric supercars go head-to-head, and DragTimes has made it happen.
Given the earlier results, and the fact it has four motors and nearly twice the horsepower, it was no surprise the Rimac won each of the three races, beating the Model S Plaid by more than half a second each time.
Even still, each race is fun to watch as it shows just how short the quarter-mile is when it is run in under 9 seconds. It also shows that the age of internal combustion engine (ICE) hypercars ruling the race track are over.
You can check out the full video below.