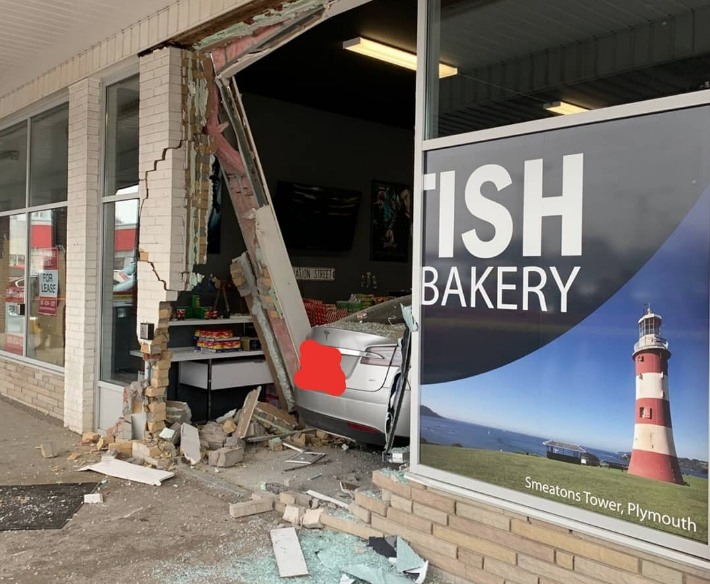 If you're looking to get some baked goods and don't want to get out of your vehicle, it's best to find a drive through location, rather than drive through the front door in your Tesla.
In Burlington Ontario, a silver Tesla Model S crashed into the British Pride Bakery at New Street and Guelph line this morning at 10.30am. The Tesla was reportedly being driven by a woman, the sole occupant of the vehicle.
The store was open at the time of the crash with customers inside. A witness, Donna Caetano, told the Hamilton Spectator that after the accident bystanders were rushing to help those in the vicinity of the accident. Both the driver of the Tesla, and an employee of the bakery, were taken to hospital with minor injuries, and have both been released since.
The bakery will obviously be closed for the foreseeable future, with no word yet on when it might reopen. When it does, it would be great if Tesla owners could make an effort to support the store and buy some baked goods to enjoy.
British Pride Bakery posted these photos to their Twitter account showing the aftermath of the accident. Seeing the pictures, it's a miracle no one was seriously injured in this accident.
A devastating accident occurred at our Burlington location today.

Thankfully nobody was seriously injured, one employee was taken to hospital.

I'll have more news as it comes in but at the time of writing, I've got no estimated reopening date🇬🇧 pic.twitter.com/Bineqmd2iI

— British Pride Bakery (@BPBakery) December 17, 2019
We are really happy to share that both our amazing employee & the driver of the car are both safe & out of the hospital.

As you can imagine all employees at all locations were very shaken this morning & the messages were so heartfelt and genuine, we were reduced to tears.

(P1) pic.twitter.com/1fpkeiDgiq

— British Pride Bakery (@BPBakery) December 17, 2019