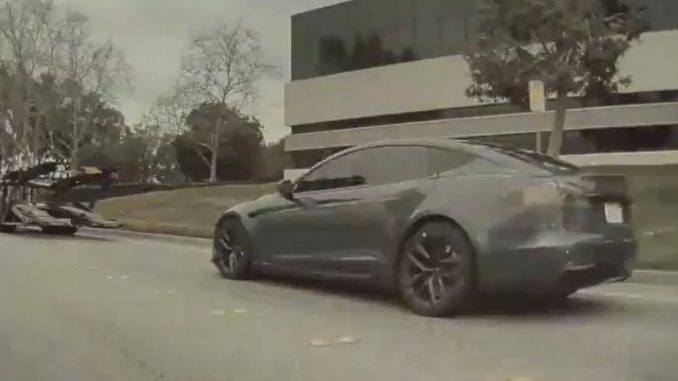 A refresh Tesla Model S has been spotted on the roads outside the factory in Fremont as the first deliveries are expected to begin in just a few weeks.
The new Model S was caught on the Dashcam of Mark Lindsey, creator of TeslaTip, who was driving around the factory hoping to catch a glimpse of the newly designed vehicle.
Outfitted with the optional 21″ Arachnid wheels, the front windows were also tinted obstructing any view of the interior to see if it featured the new yoke steering wheel. The vehicle also had no visible badging, making it difficult to determine if it was a Long Range or Plaid variant.
Can't wait to see the refresh S on the roads! 😍🥰 https://t.co/DRAj5Q3Cx6

— Drive Tesla 🇨🇦 #FSDBetaCanada (@DriveTeslaca) February 9, 2021
The refresh Model S was announced on Q4 2020 earnings day last month, after months (and years) of hints and rumours. The small changes to the the outside of the vehicle were overshadowed by the radical redesign of the interior. Featuring an all-new dash and 17″ horizontal screen, the one feature that caught everyone's eye was the new yoke steering wheel.
Priced at $114,990 CAD for the LR and $159,990 CAD for the Plaid variant, it is also more expensive than the previous generation of the flagship sedan. Tesla's Design Studio says the first deliveries will begin in March, but CEO Elon Musk said during the Q4 2020 earnings call some will begin in February.