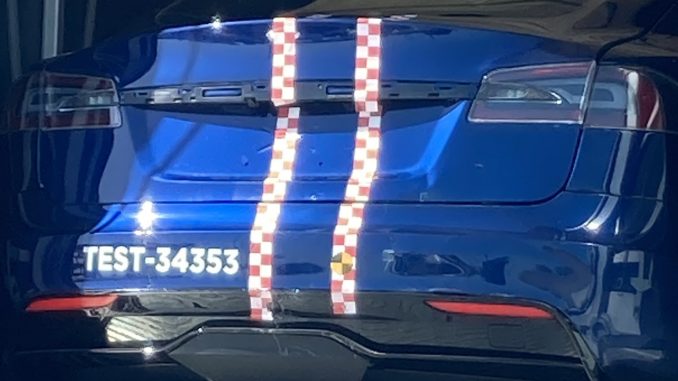 While we wait for the first refresh Tesla Model S deliveries to begin, they continue to be spotted road testing across the US. Another blue test vehicle was spotted in California yesterday, but this time it wasn't driving on the road.
Instead it was in the back of a semi truck and outfitted to look like it was returning from, or heading to crash testing.
The blue Model S was spotted in Milpitas, California, just south of Tesla's factory in Fremont. The door to the trailer was wide open, giving us a clear view of the rear of the car with the same decals seen during NHTSA and IIHS crash testing.
Spotted on 880 in Milpitas @klwtts pic.twitter.com/PlVQtBxvVT

— jeremy pomp (@jeremypomp) April 1, 2021
It is difficult to tell from this single photo, but it does appear this car was actually returning from crash testing. There is some very obvious [minor] damage to the rear bumper, and the right side of the trunk is out of alignment, more so than what Tesla is known for.
Either way, this is another good sign that deliveries should begin soon.
When the Tesla Model S was tested by the NHTSA in 2013, it received a 5-star safety rating and set a new record for the lowest likelihood of injury in any vehicle ever tested.
It was so safe that it achieved a combined record of 5.4 stars on the overall Vehicle Safety Score (VSS) provided to manufacturers.