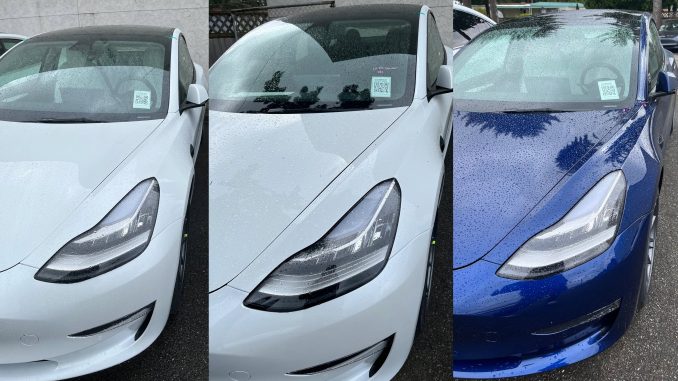 Buyers expecting to receive their new Tesla Model 3 in the coming days and weeks may want to check their headlights at delivery.
According to recent reports, Tesla appears to have reverted to installing the older non-matrix LED headlights in the latest Model 3 builds.
The change was first noticed TMC forum member bugnotfound, who discovered on a visit to his local delivery lot in Lynwood, Washington this weekend that the old headlights were on at least 3  newly built Model 3 sedans.
According to the user it was only the Rear-Wheel Drive (RWD) and Long Range (LR) variants that had the old headlights. The Performance variant still had the matrix LED headlights.
Wanting to confirm his suspicions, he went back to the lot on Sunday and upon inspecting a truckload of Model 3s that were just offloaded, he discovered more cars that had the old headlights.
Based on the stickers that display the manufacturing date, it appeared the switchover to using the old headlights took place on cars built on or around April 25.
Further evidence of the change was on this Model 3 LR, delivered to Reddit user u/Daedelus00 on Friday, April 29 in southern California.
UPDATE May 4 2022 9:48am: The old headlights have now appeared in Canada. Here is a side-by-side example from Edmonton, where an April 22 build has the matrix LED (left), and an April 24 build has the old headlights (right). Thanks to our reader Dave for sharing this information and photo with us.
Tesla has not commented on the change, and the Design Studio still shows all three Model 3 variants with the matrix LED headlights.
If they have indeed switched back to the old headlights on the RWD and LR variants, it would be a strange one to make since they have been included on the Model 3 since the refresh design launched in 2020.
The switchover might have occurred due to the ongoing and well publicized parts supply issues plaguing Tesla and other automakers.
The other possibility is that Tesla could be aligning the Model 3 with the Model Y, which only has the matrix LED headlights on the Performance variant of the electric SUV.
If you have taken delivery of a Model 3 with the old headlights recently, let us know in the comments below, or reach out to us at tips@driveteslacanada.ca.
New Tesla Model 3 headlight certifications hint at upcoming adaptive ability