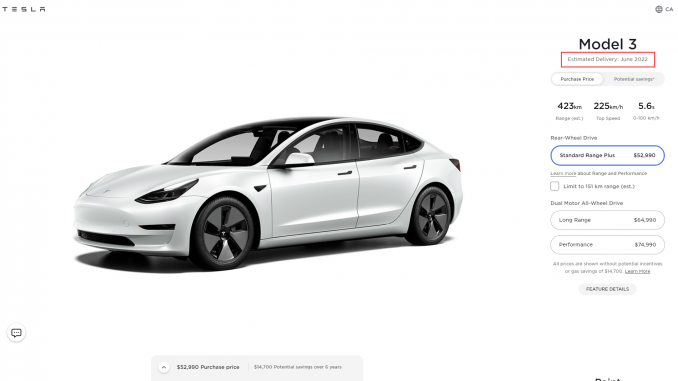 If you thought the 6-month wait for the entry-level Model 3 and Model Y was long, you might not want to configure a car on Tesla's website today.
According to the online Design Studio, orders for the Standard Range Plus (SR+) Model 3 are not expected to arrive until June 2022, a full 9 months into the future.
Unlike other recent delivery date changes, this one only impact the SR+ in standard white and with the stock 18″ Aero Wheels.
Switching to any premium colour and or upgrading to the 19″ Sport Wheels decreases your wait time to March 2022. The change is showing for both Canadian and US orders (h/t: Geoffrey).
This latest update follows a similar trend over the last few months as Tesla faces record demand while still only having one factory supplying cars for North America. That bottleneck should be cleared soon as Giga Texas nears production.
Tesla recently announced a switch in location of their Annual Shareholder Meeting to the new factory. With the last minute switch for the event, still scheduled for October 7, 2021, it would not be surprising to hear a big announcement about the factory's opening from CEO Elon Musk during the meeting.