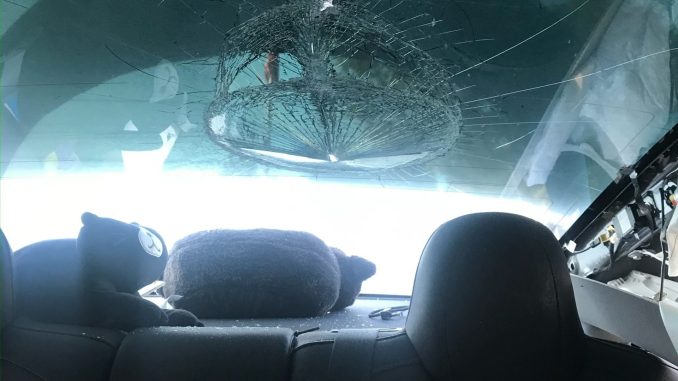 The Rivian R1T has been reported to power a vasectomy. However, a Tesla Model 3 has saved the lives of a whole family. Anna Febiana, who bought a Model 3 in 2019, narrated her family's ordeal to Teslarati's Johnna Crider.
It so happened that Anna was picking up her two children from school when a BMW struck them. The accident occurred near their home.
When the larger BMW struck, Anna's Model 3 was waiting at an intersection. The impact sent the Tesla spinning and hitting a wooden street pole. The pole fell on the Model 3's glass roof.
Tesla might be using glass to cover its cars, but the material is strong the roof can bear four times the vehicle's weight. In Anna's case, the roof held. Even though the pole created a hole, it didn't penetrate, and the occupants were not harmed significantly.
Anna's daughter was in the back seat when the accident happened. However, the child got off with only a concussion. However, her son bore more of the impact, with a bloody nose and swollen face.
Anna said, "I don't think we could have come out of the car to tell this story if it's not for stable the Model 3 was. But also especially for my son, if it was not for how strong the car's roof was, I don't think he would be here."
The proud Model 3 owner believed there could have been a worse outcome with another car. She got another Model 3 as a replacement.
Meanwhile, Tesla owners are far less likely to be involved in an accident.