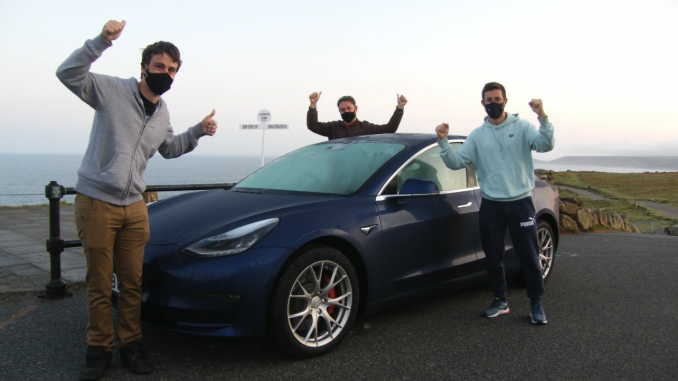 Tesla has entered the Guinness Book of World Records a few times, once after a Model X towed a Qantas Boeing Dreamliner 787-9, marking the heaviest weight towed by an electric vehicle (EV) at 130 tonnes (143.3 tons).
Our Model X towed a plane once and now we're in the 2020 Guinness World Records book.

So…how's your day going? pic.twitter.com/MTfi6Wyh7y

— Tesla (@Tesla) September 7, 2019
You can now add one more to the list as the Model 3 last week broke the record for the fastest charging time for an EV.
Driven by Formula E driver Alexander Sims, Zero Carbon World's Dean Fielding, and EV specialist David Peilow, the Model 3 was attempting to cross the UK and spend the last amount of time possible charging.
The previous record was set five years ago in a Tesla Model S P85D driven by Ben Cottam-Allan and Dr. Jeff Allan. They covered the 1,402km journey from John O'Groats to Land's End in just under 19 hours, spending 3 hours 44 minutes 33 seconds of that charging.
The trio smashed that time by spending just 1 hour 31 minutes and 32 seconds charging and completing the journey more than 3 hours quicker.
Made it at 22:16.

15h 46m overall.

1h 31m 32s of charging.

Old record well and truly smashed! pic.twitter.com/Z7GLrif1nz

— Zero Carbon World (@ZeroCarbonWorld) September 12, 2020
The record could have been even shorter, as they used only a 150kW Supercharger to top up, as well as 350kW Ionity chargers. According to information released about their record, they added 168.94kWh during their journey while achieving an impressive efficiency of 266Wh/mi (165Wh/km).
The attempt was made to highlight how far electric vehicles and charging infrastructure have come, and to show its easy to make the switch to electric.
"Electric vehicles, charging capabilities and the charging infrastructure have come on in leaps and bounds over the past decade, and we want to bring attention to the fact that the UK is increasingly becoming EV-friendly and that making the switch to an EV is feasible, practical and enjoyable for both long and short journeys," said Fielding.
Range and charging time, which equates to 'total time of travel', is a key metric used to compare gas cars to electric cars. As charging speeds increase, with Tesla V3 Superchargers topping out at 250kW, and at the same time range continues to increase with improvements in battery technology, now with over 400 miles (640km) in the Model S, EVs are quickly becoming the obvious choice.
Source: Hinudstan Times