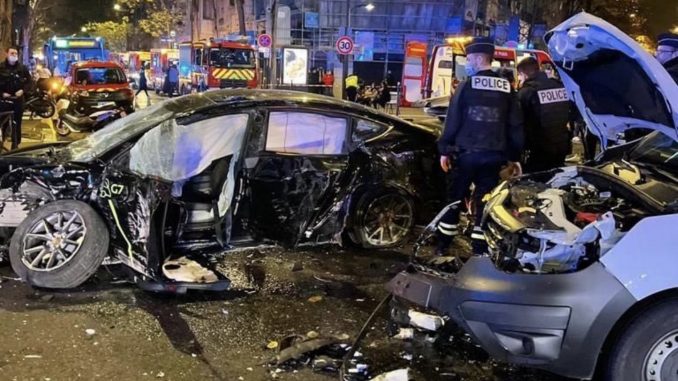 A Paris-based taxi company, G7, has announced it is pulling 37 Tesla Model 3s from its fleet following a fatal crash involving one of their cars on the weekend.
On Saturday night one of their Model 3s lost control and killed 1 person, while injuring 20 others, 3 of them seriously.
Yann Ricordel, G7 Deputy Chief Executive said the Model 3 was not on shift and was being driven by an off-duty taxi driver taking his family to a restaurant.
An initial investigation has ruled out a mechanical failure in the car. Ricordel said the driver attempted to apply the brakes, but the car accelerated instead.
Meanwhile, Jerome Coumet, mayor of Paris' 13th arrondissement, who on Saturday night said the car has a "technical failure," now says the accelerator got stuck.
Given the uncertainty around what exactly happened, G7 will stop using their Model 3s until the investigation is complete.
"Today, we have two divergent views on the subject. We will maintain the suspension of the Tesla Model 3 while the investigation is ongoing, as a safety measure for our drivers, customers and other road users," Ricordel said. (via Reuters)
While the cars are out of service, impacted drivers will be fully compensated for lost earning while the company looks for alterative vehicles for them.
Tesla will likely cooperate with the investigation, which seems to be centering on a claim of sudden unintended acceleration.
Such claims are not new, and all have been found to be user error where the driver has accidentally hit the accelerator instead of the brake.
UPDATE Dec 15 10:45am PST: According to a government spokesperson, Tesla has said there is "no technical problem" with the vehicle. (via Reuters)
UPDATE Dec 16 6:53pm PST: Surveillance footage from a nearby restaurant has been released showing the incredible speed of the Model 3 just seconds before it crashed.
https://twitter.com/DriveTeslaca/status/1471674639868825601
NHTSA clears Tesla in probe over claims of unintended acceleration