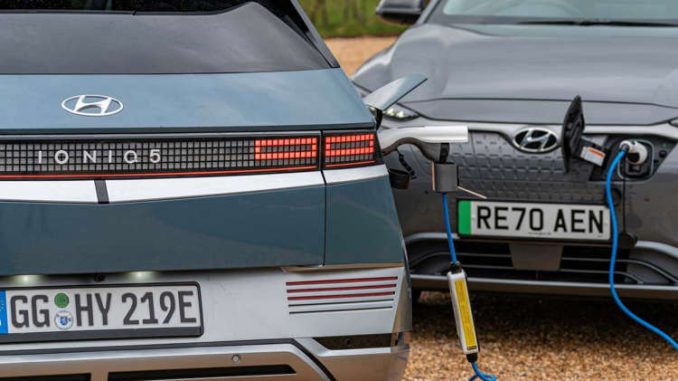 When Tech Radar got their hands on the AWD version of the Hyundai Ioniq 5, they decided to test some of the marquee features. This included its speedy 350 kW DC fast-charging capability and vehicle-to-load (V2L) functionality.
The Ioniq 5 is a capable SUV. However, one of the most exciting features of the vehicle is its 800V infrastructure. Much like its cousin vehicle, the Kia EV6, the Ioniq 5 is a fast-charging menace, without the cost that comes with 800V infrastructure. In practice, the charging rate is fast.
Tech Radar took the vehicle to a 350kW Electrify America charging station, where they charged the Ioniq 5 from 31 per cent to 80 per cent in just 13 minutes.
The peak charging rate from the station was 226kW. A
lthough this is below the 350kW charging capability, this charging rate is among the quickest EVs that are not Teslas.
However, the best party trick of the Ioniq 5 might be the V2L functionality. The Ioniq 5 features up to 1.9kW of power output (120V 16A) V2L functionality on all trims.
Settings within the car allow you to set just how much of your Ioniq 5's battery you want to use to charge another EV.
To access this feature, drivers will need to buy a $220 charging port adapter. The Limited trim also has a power outlet under the rear seat.
In their test, another Ioniq 5 was able to charge at about 4mph (6.5km/h) while drawing about 1.7kW (120V ~14A), enough to add 12mi (19km of range) in 3 hours.
It is not fast-charging, but it certainly is a feature worth having in an emergency.