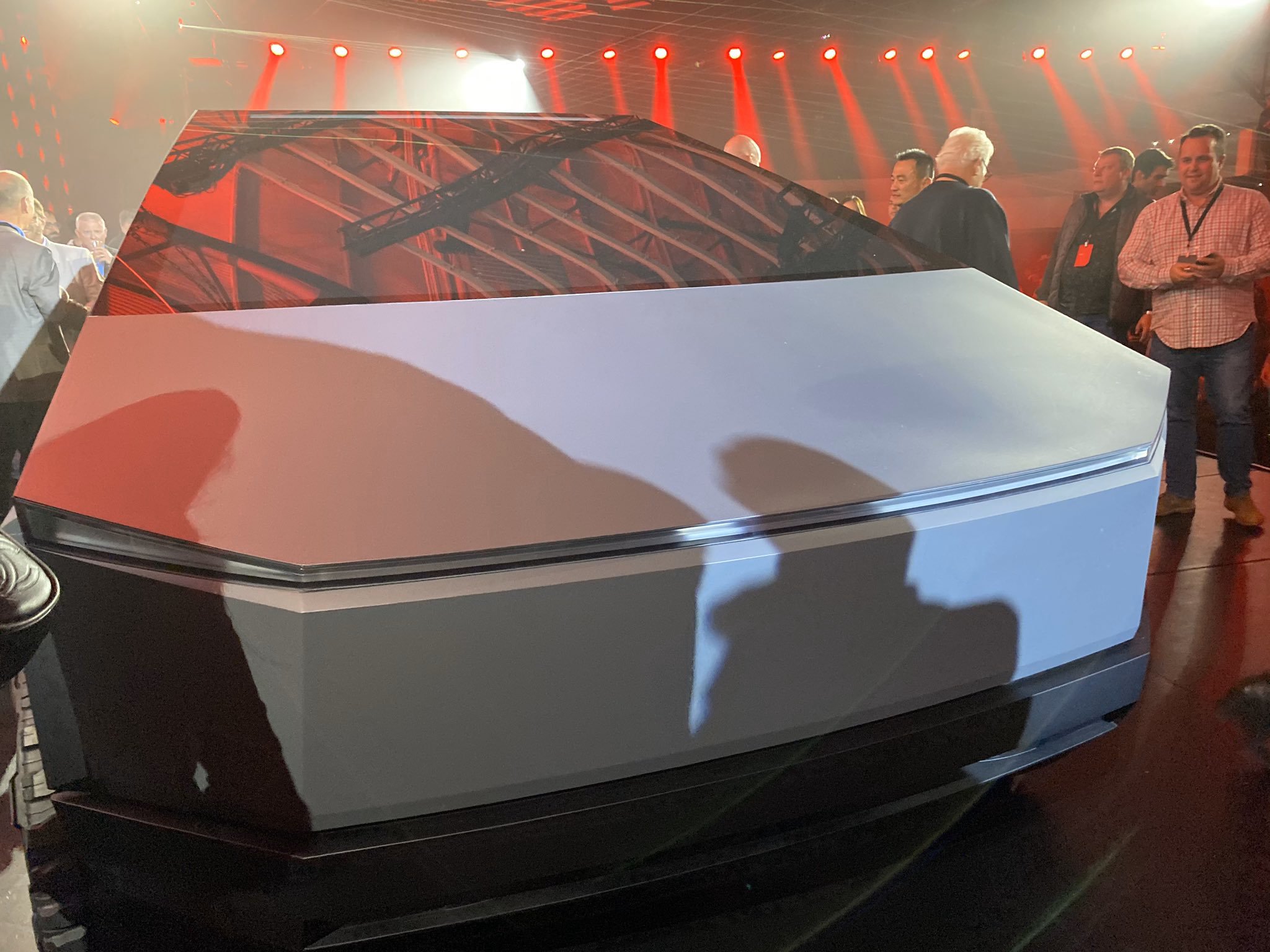 If you couldn't be there to experience the unveiling of the Cybertruck, you had to live vicariously through those few lucky people who got the invitation last week.
Save with big discounts at your favourite Tesla accessories stores, like 10% off at Tesmanian, TesBros and Nikola Pro, plus many more. Coupon codes at DriveTeslaCanada.ca/deals.
Of course there were going to be lots of images and videos posted to social media after the event, where guests in attendance had the chance to get up close and personal with Tesla's latest vehicle.
Here are some of the better photos and videos from the stage in Los Angeles.
#Cybertruck rear cover being closed. So much cooler than expected! #cybrtrck @Tesla pic.twitter.com/hm4x9QE78D

— M@ttLond.re (@MattLondre) November 22, 2019
Honestly the design of #CYBRTRK was too much for me upon first look, but it grew on me after I watched my own video a few more times. What's your take? pic.twitter.com/GTzbmwWW63

— Ray4️⃣Tesla⚡️🚘☀️🔋 (@ray4tesla) November 22, 2019
I've been for a ride in the new @Tesla Cybertruck. It's like nothing else on the planet. Super-quick, super-spacious and super-clever ❤️❤️❤️❤️❤️#Cybertruck #CYBRTRK pic.twitter.com/S8tk8uOrPe

— Steve Fowler (@SteveFowler) November 22, 2019
AP rear looking camera left front fender #CYBRTRK pic.twitter.com/JDLy8V9PC9

— Robert @TalkingTesla (@rrosenbl) November 22, 2019
Close up side view pic.twitter.com/U47VAAt0nF

— Tesla Owners Silicon Valley (@teslaownersSV) November 22, 2019
Up close the @Tesla Truck is MASSIVE. I have a Ford Raptor and the #cybertruck is definitely bigger!#teslatruck pic.twitter.com/ME1ddnENoF

— Hamid Shojaee (@hamids) November 22, 2019
💥💥💥💥 pic.twitter.com/lrBkX5a7Ek

— Tesletter (@tesletter) November 22, 2019
You asked for better angles. We got you covered! 😉 #Cybertruck pic.twitter.com/0Nf3TV4cJi

— TeslaBros (@teslabros) November 22, 2019
I think I ordered three #Tesla #Cybertruck's 😂 pic.twitter.com/MQaYcdphFg

— Sofiaan Fraval (@Sofiaan) November 22, 2019
Tesla CyberTruck closeup vid for u guys 🤘🏻😎🤘🏻 pic.twitter.com/N0U6mxmc6N

— Vincent (@vincent13031925) November 22, 2019
— Tesla_performance_3 (@teslaP3D) November 22, 2019
Looks like we don't have to #chromedelete this bad boy #Cybertruck pic.twitter.com/DEIQjIeqDL

— TeslaBros (@teslabros) November 22, 2019
Close up and slow mo… #Cybertruck pic.twitter.com/FBCZ6HcXVd

— Tesla Owners East Bay (@TeslaOwnersEBay) November 22, 2019
Ok. So I'm 5'6 (not tall) and even though I look tiny next to this beast, no other truck on the market can lower their profile like this. pic.twitter.com/IrsxDIDsB1

— Tesla Owners Central Coast (@ccteslaclub) November 22, 2019