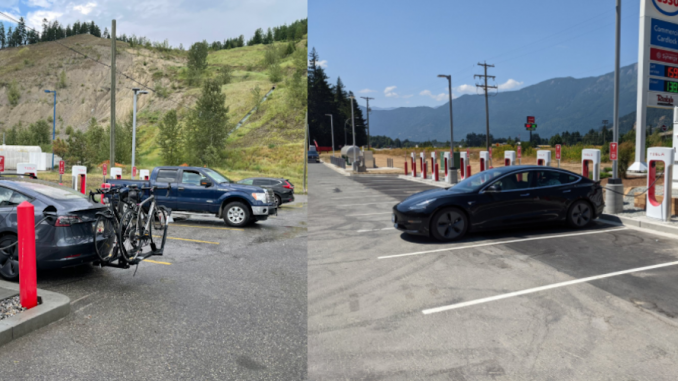 Although one took a lot longer to open than the other, two new Tesla Superchargers have opened this weekend in Hope and Golden, British Columbia.
Hope Supercharger
The second Supercharger location in the small town of Hope opened on Friday, less than one month after it was first discovered under construction and near completion. The site features 12 V3 250kW Superchargers, adding to the 10 V2 150kW Superchargers already open.
The new site is located at the Cardlock Coop Esso at 19700 Klassen Rd., a much more convenient location for travellers just off the Trans-Canada Hwy.
New V3 @Tesla Supercharger now open in Hope, BC. Great views and easy stop. Way better than original. Thank you! @TeslaCharging pic.twitter.com/4Pesznpitq

— Matt Lister (@Lister_Matt) July 4, 2021
Golden Supercharger
Another location in B.C. now has two Supercharger stations. The new V3 250kW station in Golden also went online this weekend. This site first began construction in September 2020, and has been waiting for BC Hydro crews to install the finishing touches since then.
The 8-stall Supercharger is located at the Fas Gas Plus gas station at 1020 Trans-Canada Hwy, adds to the existing 4-stall 150kW Supercharger located just up the road at 1200 St N.
Based on early reports, the site is at full speed and charging as fast as 253kW, although "ICE"ing of the charging stalls has already begun.
Charging at the new supercharger in Golden, BC. Hit 253 kW!! Currently more gas vehicles parked in the spots than Teslas. pic.twitter.com/tjljgfxNl2

— teslainvernon (@teslainvernon) July 4, 2021