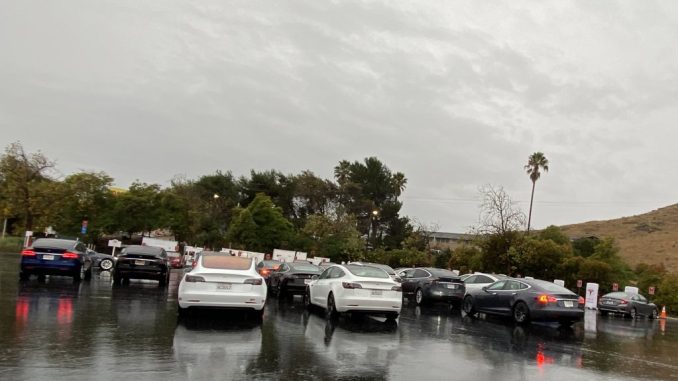 As Tesla has been known to do for busy holiday weekends, they have announced select Superchargers in four different states will be free during off-peak hours for the Thanksgiving weekend.
To help reduce congestion and long line ups like the one above during Thanksgiving weekend in 2019, plugging will be free during the overnight hours between 8:00pm and 9:00am at 22 different stations in California, Nevada, Oklahoma, and Texas from Wednesday November 23 until Sunday November 27.
With the large population of Tesla owners in California, they get the most free Supercharging stations over Thanksgiving at 17.
Oklahoma gets two, and Nevada and Texas each have one participating station.
This is considerably fewer than the 54 stations Tesla included in the same promotion for Memorial Day weekend, and they have also shortened the free hours by one hour on each end (previously 7:00pm and 10:00am).
Here is the full list of locations participating in this year's Thanksgiving promo.
California
Baker, CA
Bakersfield, CA – I-5
Bakersfield, CA – Copus Road (Limited Amenities)
Barstow, CA
Barstow, CA – East Main Street
Barstow, CA – Tanger Way
Buttonwillow, CA – I-5
Firebaugh, CA
Gustine, CA
Harris Ranch, CA
Hesperia, CA
Kettleman City, CA
Kettleman City, CA – Bernard Drive
Patterson, CA – Speno Dr
Santa Nella, CA
Tejon Ranch, CA
Tejon Ranch, CA – Outlets at Tejon Pkwy
Yermo, CA
Nevada
Oklahoma
Ardmore, OK
Oklahoma City, OK
Texas