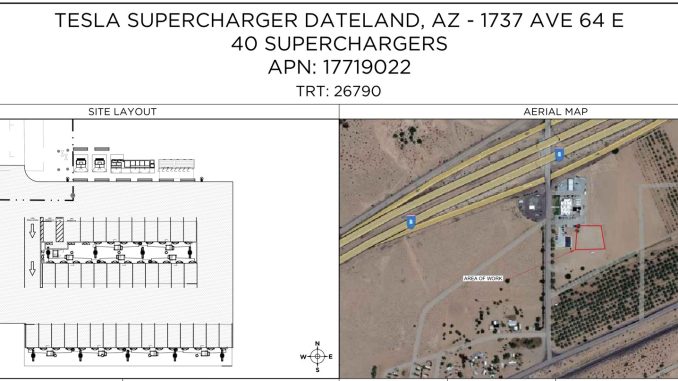 Tesla has yet to officially announce or unveil their new V4 Superchargers, but thanks to some construction plans we know what they will look like when they do arrive.
Now also thanks to some construction plans, we know one of the first installations will be in Arizona.
According to building plans uncovered by Supercharger sleuth Marco (@MarcoRPTesla), the first known V4 Supercharger location will be in Yuma County.
The site plans reveals it will not be a small installation either, with 40 stalls slated to be built at the Dateland Travel Center along Interstate 8.
Continuing a trend we have seen lately at other Superchargers, one of those stalls will be a pull-through stall, giving owners easy access to a Supercharger without having to unhook their trailer in order to charge.
Unsurprisingly, there will also be two 4,500 square foot solar arrays to take advantage of the Yuma sun. Drivers will also need to be shaded from the sun, which shines on average 308 days every year in the area, so there will be two solar canopies covering all stalls except the pull-through stall.
Not letting all that energy from the sun go to waste, Tesla will also be installing a Megapack to store excess energy and use it during peak times to lower their costs.
As we have previously reported, these V4 Superchargers will essentially look like Tesla Megachargers, but slightly smaller. The biggest visual difference between the V3 and V4 Superchargers is that the cable will be docked on the outside of the stall, as there is no center opening.
This leads to the charging cord being longer than the V3 Supercharger cord, something which should prove beneficial when Tesla opens up the Supercharger network to owners of other electric vehicles (EVs).
Tesla V4 Supercharger design confirmed: Megacharger look-alike