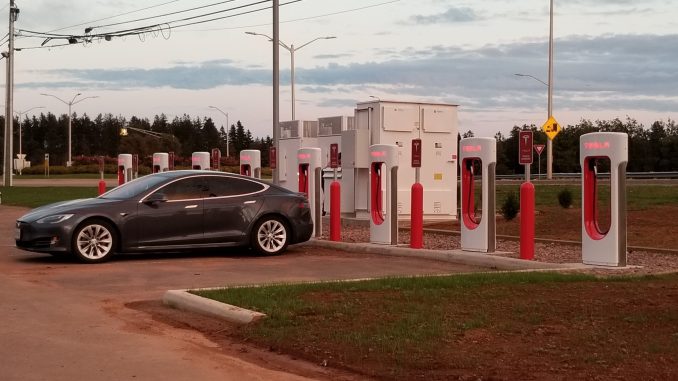 Prince Edward Island (PEI) finally has their first Tesla Supercharger. The new station in Charlottetown was turned on late this afternoon, leaving just Newfoundland and Labrador as the only Canadian province without a Supercharger.
Construction began in mid-August, and crews worked quickly to get the site completed in less than one month.
We reported earlier today that the transformer had finally been installed at the site, a good sign that it was going to be activated very soon.
https://twitter.com/DriveTeslaca/status/1443696037105856524
Just over one hour later and the station was turned on, with the one of the first owners plugging in and sharing the news on Twitter.
The lights are on at the new Tesla Supercharger in #PEI!
The Tesla employee was still checking things at 7:30pm.
Talk about just making it, by the end of Q3, as promised. pic.twitter.com/Plyb4C4H73

— Ricardo Angel, PMP (@AdviceOnTech) September 30, 2021
The new Charlottetown Supercharger features 8 V3 stalls and is located on Poplar Island in the parking lot in front of BOOMburger. The station is not appearing on the in-car navigation yet, but should be added soon.