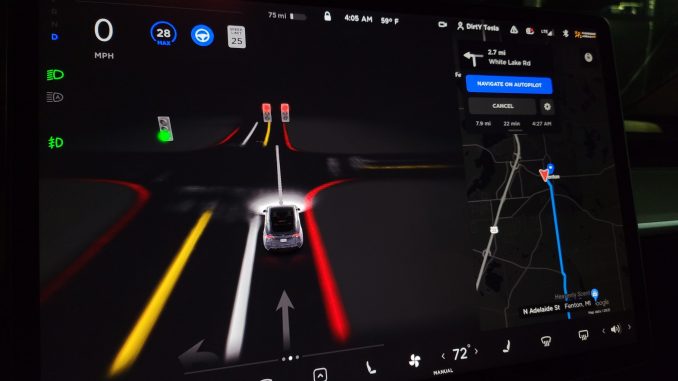 After more than four months of waiting, the next update to Tesla's Full Self-Driving beta software arrived as promised early this morning. The new update brings with it a "pure vision" approach to self-driving, and new "mind of car" visualizations.
So far only available to a limited number of beta testers, the 2021.4.18.12 early access release notes indicate the update also includes the activation of the cabin camera to monitor driver inattentiveness. This is something that CEO Elon Musk said cost some owners their spot in the coveted testing program earlier this year.
Release Notes pic.twitter.com/VOi9DX0QFT

— Tesla Raj (@tesla_raj) July 10, 2021
Even though the release dropped in the very early hours of the morning, that hasn't stopped beta testers from getting behind the wheel and sharing initial impressions. For the most part, the reception has been a positive one, with several testers noting the software is much smoother.
https://twitter.com/28delayslater/status/1413853415306825730
Some of the comments and videos we have seen so far indicate the car is also more confident in certain scenarios, such as accelerating into corners and gaining speed after a turn.
As mentioned in the release notes, the visualizations have also been improved. The car now displays the surrounding environments with solid lines and cars, as opposed to the previous versions that only had dotted lines and boxes.
We also now know what Musk meant when he said "mind of car" visualizations. What is displayed on the screen is a representation of the confidence the car has in what it sees in the surrounding environment. The darker and more solid the lines, the more confident it is.
In a tweet this morning, the CEO said the visualizations will only improve with time and become more realistic. He added the ultimate goal is being able to know with just a quick glance at the screen how much of the surrounding environment the car understands.
Another change noticed so far with the visualizations is that it now renders when surrounding cars have their brake lights and turn signals activated.
FSD Beta 9 shows brake lights and turn signals on other cars!! pic.twitter.com/3V30TvnaMv

— Nick, FSD Beta 9 (@nickwhoward) July 10, 2021
Here are some of the videos of FSD beta V9 that have been released so far.
https://www.youtube.com/watch?v=7NW6mICjUvM
#Fsdbeta9 pic.twitter.com/WuVGHmB6LR

— Tesla Raj (@tesla_raj) July 10, 2021
First drive @Tesla #FSDBeta9 visualization is super smooth. No more dots except for the driving path. Solid lines instead. pic.twitter.com/cHjMAbrx5V

— Sofiaan Fraval (@Sofiaan) July 10, 2021
Move bitch, get out the way! $TSLA @elonmusk pic.twitter.com/BlRO4lldfc

— Whole Mars Catalog (@WholeMarsBlog) July 10, 2021
Robotaxis are way closer than you think $TSLA @elonmusk pic.twitter.com/WAXfp632bL

— Whole Mars Catalog (@WholeMarsBlog) July 10, 2021
https://twitter.com/kimpaquette/status/1413812713369788418