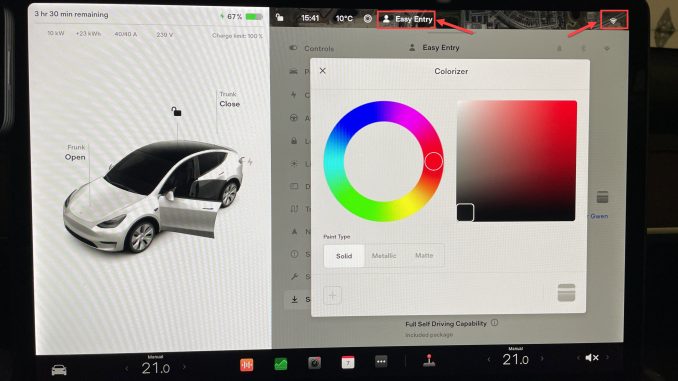 Tesla has started a wide release of their latest 2022.4.5 software update this afternoon, with one of the first installations taking place on a Model Y in Alberta.
https://twitter.com/Brangwyn/status/1490811064350429184
We already knew this update would include a fix for the seat belt chime that was subject to a recall last week, but there are also a number of other surprises included in the release.
Car Colorizer
First released in China last month, you can now change the colour of your car's render with the Car Colorizer.
Screenshots of the new feature from Drive Tesla reader @Brangwyn, you can select any colour from a colour wheel, and select either a Solid, Metallic, or Matte Paint Type.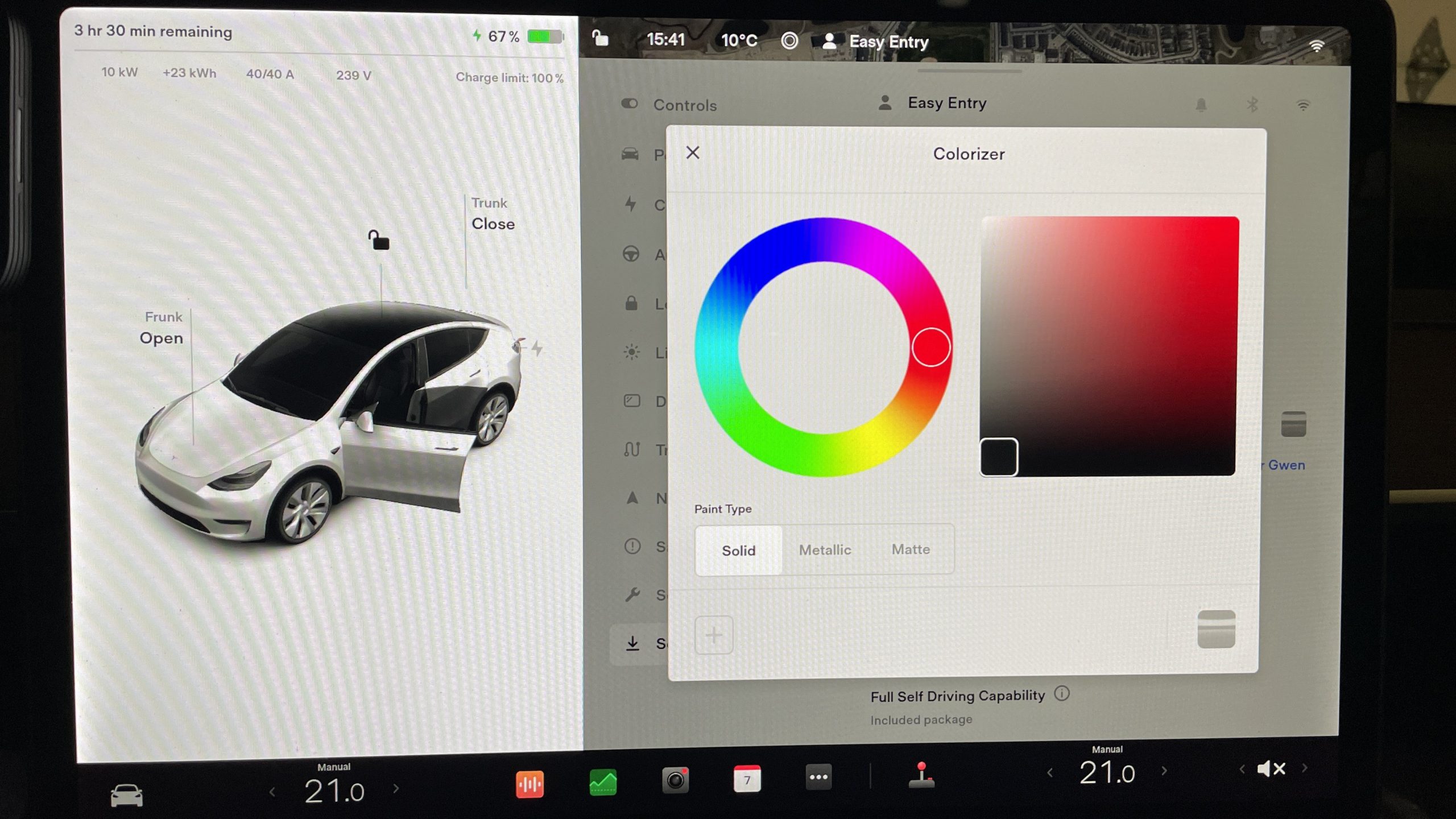 The custom colours are not only visible on the in-car display, but also follow through to the mobile app.
Save Dashcam Clips
Elon Musk has promised a number of user interface (UI) improvements were coming after the release of the new V11 software in the Holiday Software Update.
The first improvement has now arrived with the ability to save dashcam clips from the home screen with a new icon for the bottom bar.
Although the release notes only mention dashcam clips, it also appears as though Driver Profile and WiFi/LTE signal icons are also back on the home screen.
UPDATE Feb 8 1:45pm PST: This update also includes Windshield Wiper Defrost for properly equipped Model 3/Y vehicles. You can learn more here.
UPDATE 3:21pm PST: It looks like the Driver Profile and WiFi/LTE icons are only visible on the home screen when in Park.
Apparently not while in drive mode. pic.twitter.com/lkDoACqv76

— Brangwyn(he/him/his) 🇨🇦🛼📷🎙️🪖⚡🔋🏳️‍🌈 (@Brangwyn) February 7, 2022
Regenerative Braking in Autopilot
The update also includes the improved regenerative braking in Autopilot first seen in the 2022.4 software update.
2022.4.5 Release Notes
Regenerative Braking in Autopilot
Autopilot will now use more regenerative braking at low speeds for higher efficiency and an improved driving experience, especially in stop-and-go traffic. Increased use of regenerative braking results in less brake pedal noise and smoother stops.
Car Colorizer
Customize how your car appears on the touchscreen and mobile app with the Car Colorizer. Change the color of your car's exterior by tapping Controls > Software > Colorizer icon, or using Colorizer in the ToyBox.
Save Dashcam Clips
Quickly save Dashcam clips by adding the Dashcam icon to your bottom bar. Simply long press any app icon to endter edit mode, then drag Dashcam to the bottom bar for quick access. Tap the Dashcam icon to manually save a clip while driving.
Windshield Wiper Defrost (only for newly built Model 3/Y)
Clear snow and ice from your wiper blades by turning on windshield wiper defrost for improved visibility. To enable, tap the wiper defrost icon in the Climate control popup. Wiper defrost will automatically turn off after 30 minutes and will only activate when temperatures drop before 50°F (10°C) when enabled.