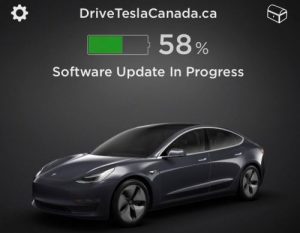 Go check your car for a software update, as Tesla has begun to roll out it's latest software version, 2019.40.1.1, to owners across North America.
We reported earlier this month that this release would feature Deep Rain, Tesla's neural net for improved wiper behavior in changing weather conditions, and it has been included in this official release to non-EAP owners.
From the release notes, the wipers will now be more likely to turn on when it is lightly raining, something that was a common complaint among Tesla owners. The Deep Rain neural net has already been trained with over 1 million images for the detection of water droplets on the windshield, and other cues from the surrounding environment. Expect wiper behavior to improve significantly and quickly as this is being released during winter, where the neural net will get plenty of training opportunities in the next several months.
Also included in this release are automatic lane change improvements for Navigate on Autopilot, which are now completed with more assertiveness by initiating the lane change faster when the adjacent lane is detected to be open.
Both new features are optional features that can be turned on/off via the touchscreen display.