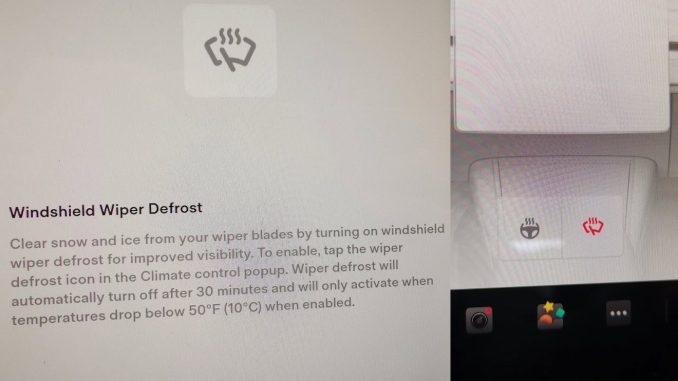 Tesla has introduced Heated Wiper Park to the Model Y production line in Fremont, California.
According to Twitter user @axlaxl7 (via Saywer Merritt), he picked up his new Model Y on January 22nd in Chicago, but the feature was only turned on after receiving the 2022.4.5 software update this week.
This indicates the feature has been in production at Fremont for possibly as long as one month or more.
UPDATE 5:41pm PST: We have just heard from one of our readers BJ Balegar who took delivery of a Model 3 in Langley, British Columbia on January 29, and he also got the heated wipers through yesterday's software update.
Along with the release notes, the HVAC menu also confirms the feature, with the control sitting next to the heated steering wheel button.
Despite the name, it is not the wipers themselves that are heated, but rather the area of the windshield where the wipers sit when not active, meaning no retrofit for existing owners.
Interestingly, a close shot of the area reveals no visible heating elements like we expected there would be.
The Model Y owner did report though that he can feel the heat when placing his hand on the lower part of the windshield.
Heated Wiper Park was first introduced in China just last month, with it already appearing on both Model Y and Model 3 cars built at Giga Shanghai.
Given that this delivery took place in Chicago, there is a good possibility it is already included in cars destined for Canada, if not some that have already been delivered.
If your new Model Y has heated wipers after receiving the 2022.4.5 software update, let us know in the comments below, or reach out to as at tips@driveteslacanada.ca.