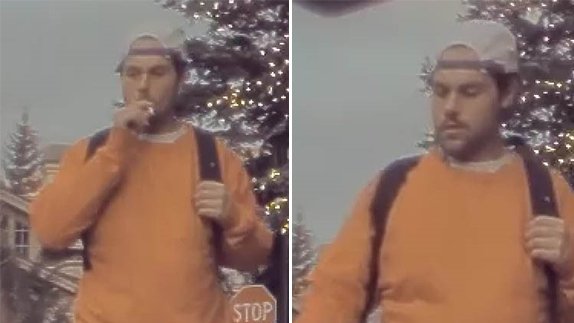 It has happened again. Police in Vail, Colorado are seeking the public's help in identifying a suspect that was caught on Sentry Mode vandalizing a Tesla.
UPDATE: In a statement to Drive Tesla, Vail Police say the suspect has turned himself in early this morning. Another win for Sentry Mode.
The incident occurred on April 16 around around 7:30pm on East Meadow Drive in Vail Village. In video captured by several of the Model 3's cameras, the suspect can clearly be seen putting out his cigarette on the side and hood of the Tesla, causing damage to the electric sedan.
Unfortunately the Vail Police did not share the actual video of the incident, but posted these images of the suspect on their website and social media. They describe the suspect as follows:
"The suspect is a male, approximately 28-32 years old with short brown hair, mustache and beard. He was wearing an orange sweatshirt, light gray hat, black pants, black/white sneakers and carrying a tan backpack with black straps."
It should be noted that police say he was wearing an orange sweatshirt. Tesla's cameras often show red colours as being orange, and this is the case here as you can see the STOP sign behind the suspect is the same colour as his shirt. We have reached out to Vale Police to let them know and will update this story if necessary.
If anyone can identify the suspect or has information about him, you are asked to contact Officer, Nicholas Deering at 970-479-2201, or via email at ndeering@vailgov.com.