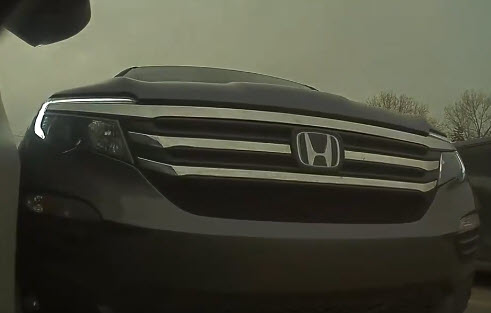 We've seen it before where someone strikes a parked Tesla, only to drive away without leaving a note so the damages can be covered by their insurance. Now it's happened again, this time in Calgary.
The incident occurred at the Calgary Farmers Market on Sunday November 24 2019 at around 2:35pm. What appears to be a grey Honda Pilot SUV pulls into the parking spot next to the Tesla. The driver misjudges the distance between the front bumper and the Tesla, and proceeds to strike and scrape the driver's side of the Tesla, also leaving a mark on the front of the Honda.
The driver then gets out of the vehicle, inspects the damage on the Tesla, then gets back into his Honda and leaves the scene of the crime so that he can't be held accountable for his actions. Little did he know he was caught on Tesla's Sentry Mode for the internet to see.
Unfortunately a clear shot of the license plate was not captured, but we do get a pretty good view of who we believe to be the driver himself. Surely someone out there must recognize him, or be able to identify the Honda with the damage to the front bumper. If you do, please contact the Calgary Police Service and reference the file # CA19507537.
— Glen Mah (@GlenMah) November 25, 2019