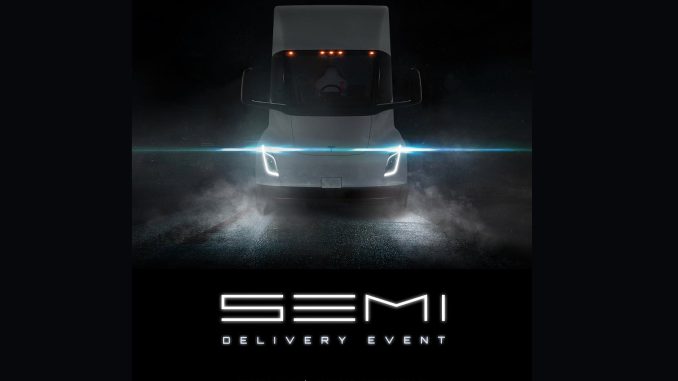 Tesla has confirmed they will be hosting one of their most anticipated vehicle delivery events at Giga Nevada. That's where Tesla will deliver the first Semi electric trucks to PepsiCo on December 1.
Back in early October Elon Musk confirmed the Semi had finally entered production, after first being unveiled in 2017. At the same time Musk also confirmed the first deliveries would go to PepsiCo on December 1, but did not say whether the handover would take place at a PepsiCo or Tesla facility.
Tesla shuts down orders for Semi, updates website with impressive specs ahead of first deliveries
On Tuesday night Tesla confirmed the deliveries will take place where the Semi trucks are being built – Giga Nevada, sharing the event poster on Twitter with a lone Tesla Semi sitting in fog on a dark road.
— Tesla (@Tesla) November 16, 2022
Unfortunately the poster doesn't reveal what time the event will take place, but Tesla will livestream it if you are not lucky enough to be able to attend the delivery event in person.
Last week Tesla's head of investor relations Martin Viecha announced verified shareholders registered on Tesla's investor platform will be entered into a random draw to win a ticket to the event. The more shares you own the more entries you get into the draw.
If you win you will not only get the chance to see the Semi up close and in person, but you might also get the chance to meet Elon Musk, who has said he will personally be in attendance for the significant event.
Neither Tesla nor PepsiCo has revealed how many Tesla Semi's will be delivered on December 1, but we are expecting a number somewhere between 10 and 15 units.
Tesla is holding a random draw for retail shareholders to attend Semi delivery event