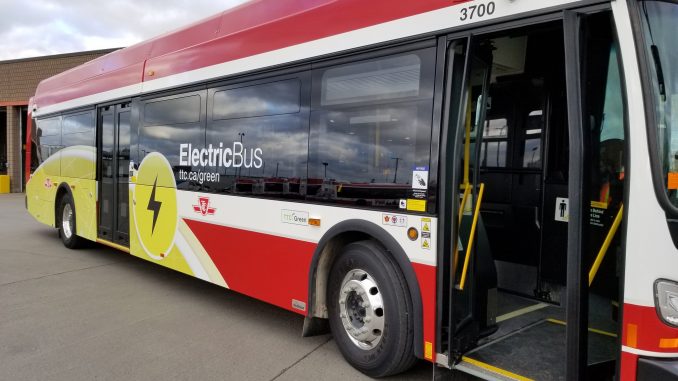 The Toronto Transit Commission (TTC) can now claim the title of operating the largest fleet of electric buses in North America.
The plan began in November 2017 when the TTC board ordered their first 30 electric buses. That was followed soon after in June 2018 with an order for another 30. The 60 buses were purchased from BYD Canada Co. Ltd., New Flyer Industries Inc., and Proterra Inc.
So far 35 of the electric buses are currently operating on Toronto roads, with the most recent joining the fleet on the 116 Morningside route on September 8. The remaining 25 electric buses are currently undergoing testing and commissioning activities, but are expected to be in service before the end of the month.
"Electrification is the future of public transit and I'm proud that the TTC has been established as an industry leader in this regard, as the owner of North America's largest fleet of eBuses," said TTC Chair Jaye Robinson. "The TTC Board wholeheartedly supports the TTC's forward-thinking plan to achieve a zero-emissions fleet by 2040."
Once in operation, the three different models will be compared in terms of charging and overall performance. The results of those tests will help determine which buses the TTC will buy in the future to further expand their fleet.
Related: BYD delivers the first of 10 electric buses to the Toronto Transit Commission
The buses were purchased for a total price of $140 million with funds from both the City of Toronto and the federal government through the Public Transit Infrastructure Fund (PTIF), which aims to have 5,000 electric buses on Canadian roads by 2025.
"I want to thank the Government of Canada for providing this funding that helps keep Toronto residents moving by investing in modernizing, expanding and upgrading our transit and transportation infrastructure," Mayor John Tory said in a press release. "This is the right and responsible thing to do for our transit system, our city, and our environment."
Toronto has a TransformTO climate action strategy which targets an 80% reduction in greenhouse gas emissions by 2050. The city says to reach that goal, 100% of vehicles must switch to low-carbon energy by 2050. Toronto also wants to complete the electrification of their bus fleet by 2040.
Featured image via @TTCStuart