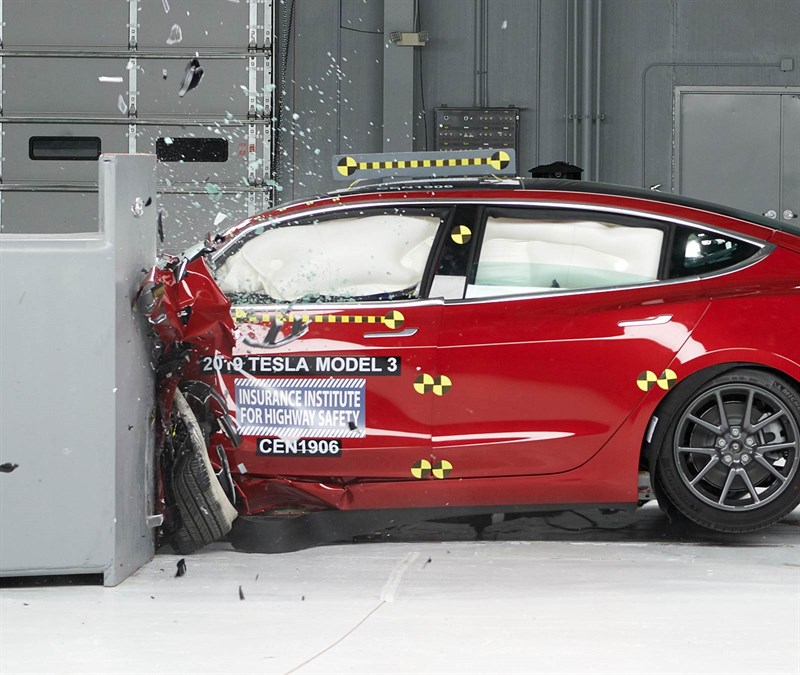 Tesla Model 3 continues winning awards for safety, this time earning the top safety rating from the Insurance Institute of Highway Safety (IIHS), becoming the first Tesla to do so.
Save with big discounts at your favourite Tesla accessories stores, like 10% off at Tesmanian, TesBros and Nikola Pro, plus many more. Coupon codes at DriveTeslaCanada.ca/deals.
The IIHS has given the Model 3 its highest rating, top safety pick+. It said the Model 3 earned good ratings across the board for crashworthiness. This rating has also been awarded to Audi's e-Tron earlier this year.
In earning the award, IIHS subjected the Model 3 to a variety of different crash tests, performing exceedingly well in all of them. The tests included:
small overlap crashes on the driver
small overlap crashes on the passenger sides
a moderate overlap test
a side crash test
According to the IIHS:
"The dummy's position in relation to the steering wheel and instrument panel after the crash test indicates that the driver's survival space was maintained very well."
The IIHS also gave the Tesla's high marks for its headlights, which illuminated the road without causing glare for other drivers. IIHS also praised Tesla's automatic emergency braking (AEB) technology, which successfully stopped the car in time to prevent collisions. If you're in BC, you can get an extra discount on your insurance because of AEB.
Get 10% off at Tesloid.ca or Tesloid.com with coupon code DTC10 at checkout. Quality Tesla accessories with FREE shipping across Canada and the US.
Watch some of the crash tests below, and read the full crash test results at IIHS.