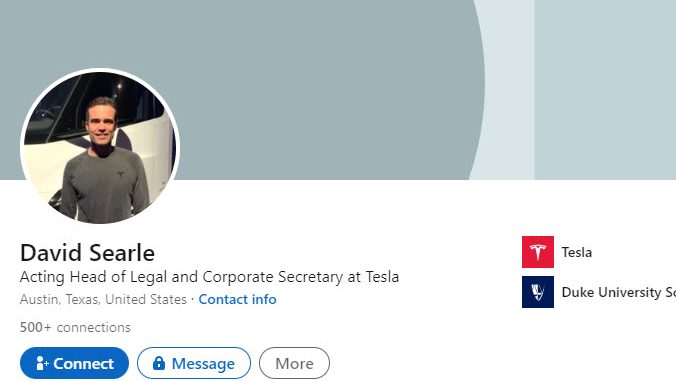 Tesla has taken an unusual step and used its Twitter account to debunk a report that claimed Legal Chief David Searle had left the company.
Earlier today Bloomerg published a report that Searle had "parted ways" with the company less than one a month ago, before Tesla's Annual Meeting of Shareholders, which took place at Giga Texas on August 4, 2022.
The supposed departure was particularly noteworthy as Searle is reportedly leading an internal investigation into questionable purchases of "special glass" that is suspected to have been for CEO Elon Musk's personal use.
Citing three anonymous sources, the report said that Tesla's deputy general counsel, Dinna Eskin, had assumed Searle's role after his departure.
As it turns out, those three sources were incorrect. About five hours after the story was published Tesla's official Twitter account replied to the story to say, "This Bloomberg article is false. David Searle has not left Tesla."
This Bloomberg article is false. David Searle has not left Tesla.

— Tesla (@Tesla) August 17, 2022
Tesla is often criticized for no longer having a Public Relations department, and is frequently faced with questions on what steps they will take to combat the seemingly relentless stream of FUD (fear, uncertainty, doubt) and false stories published about the company.
To help with this, Musk said in May he was starting to build a "hardcore" litigation department to "initiate and execute lawsuits."
While this didn't rise to the level of a lawsuit, it is refreshing to see Tesla using their once active Twitter account to debunk a false story, and hopefully it is the start of more to come.
Searle's LinkedIn profile shows he has been employed with Tesla since February 2021 when he took the role of Deputy General Counsel and Senior Director, Compliance. A few months later in November he became Acting Head of Legal and Corporate Secretary.
Prior to joining Tesla, Searle worked for Walmart and Bristow Group, a provider of offshore industrial aviation services.