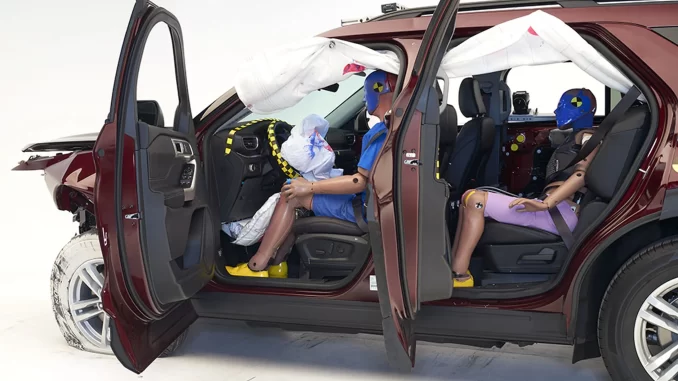 Ford's Mustang Mach-E has added another feather to its cap. The SUV has been rated the highest in frontal crash safety testing against 13 other midsized SUVs, according to the Insurance Institute for Highway Safety (IIHS).
The Mach-E took the first position in the frontal crash safety test, obtaining 'Good' ratings across all of the measured categories. The 2022-2023 Tesla Model Y came in second place, obtaining 'Good' ratings in almost all categories with the exception of 'Rear passenger restraints & kinematics,' in which the electric SUV received an 'Acceptable' rating.
Also scoring high are the 2022-23 Ford Explorer, and the 2022-23 Subaru Accent. The rear passenger seatbelts remained in proper position around the pelvis, and the side curtain airbag deployed as designed. The dummy chest did not record excessive force.
However, the Model Y, Explorer, and Accent had the dummy's head moving towards the back of the front seat, meaning there was a risk of head injury.
There was a focus on passengers in the back seat because the study highlighted safety risks to passengers riding in the back. The testers used a 12-year-old-child dummy seated behind the driver.
Joe Young, the IIHS spokesperson, said, "Based on the results we've seen so far, Ford is among those automakers that are ahead of the curve in providing a high level of occupant protection for both front and rear seat occupants."
Meanwhile, Tesla can console itself with the 5-star safety rating the Model S won from Euro NCAP and the Top Safety Pick+ award bestowed on the Model Y by IIHS.