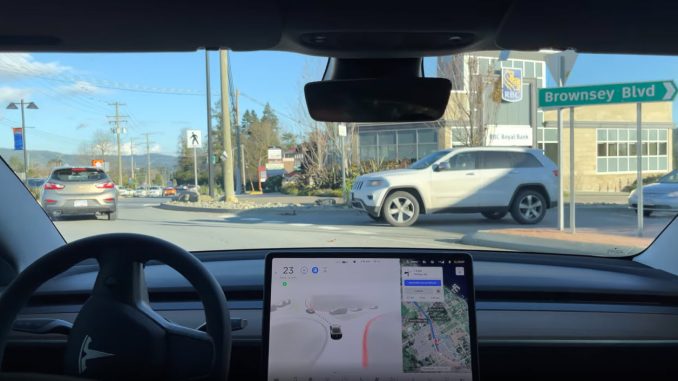 Tesla will be removing the 'rolling stop' functionality from the Full Self-Driving (FSD) Beta software through an over-the-air (OTA) software update in the coming days.
The removal of the functionality follows a Safety Recall issued by the National Highway Traffic Safety Administration (NHTSA) on Tuesday.
Tesla introduced rolling stop in the 2020.40.4.10 software update, the very first release of FSD Beta that took place more than one year ago in October 2020.
According to the recall notice posted on the NHTSA website (SB-22-00-001), the functionality allows cars operating with the software to "travel through all-way-stop intersections at up to 5.6 mph before coming to a complete stop," but only if a long list of very specific conditions are first met.
Those conditions include:
The functionality must be enabled within the FSD Beta Profile settings; and
The vehicle must be approaching an all-way stop intersection; and
The vehicle must be traveling below 5.6mph; and
No relevant moving cars are detected near the intersection; and
No relevant pedestrians or bicyclists are detected near the intersection; and
There is sufficient visibility for the vehicle while approaching the intersection; and
All roads entering the intersection have a speed limit of 30 mph or less.
The functionality is also only available when the "Average" or "Assertive" driving profiles are selected. Tesla says with this profile selected, the car will alter its following distance, lane changes, and "may perform rolling stops."
Despite there being no reported accidents or injuries, the NHTSA says not coming to a complete stop "may increase the risk of a collision."
The recall impacts all vehicles with the FSD Beta software, which as we reported last week is now at 53,822. The fix will be released in the 2021.44.30.15 software update.
UPDATE 10:53am PST: Tesla has started deploying this software update, as noted by update tracker @Teslascope.
https://twitter.com/DriveTeslaca/status/1488586098703929347
This isn't the first time Tesla will be able to solve a FSD Beta recall through an easy and low-cost OTA software update.
In November 2021 the automaker released an update to correct a problem with false automatic emergency braking (AEB) events and forward collision warnings (FCW) before the recall notice was even issued.
You can read the full recall notice below.
RCLRPT-22V037-4462