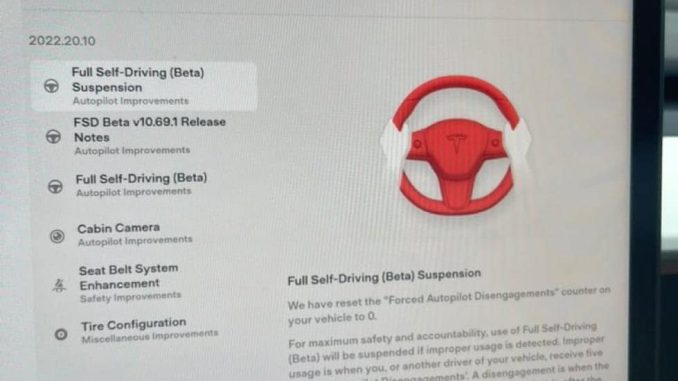 Tesla has started deploying their latest software update for Full Self-Driving (FSD) Beta, v10.69.1, sending out 2022.20.10 this afternoon to a small number of testers. The update was supposed to arrive on Monday night, which it did but only to a few employees.
The first downloads for everyone else started appearing just before 1:00pm PDT, with it going to a number of original beta testers who were already on v10.69.
FSDBETA 10.69.1 INCOMING! pic.twitter.com/YnzT1SFgmQ

— Zack (@BLKMDL3) August 30, 2022
After originally saying this version would go to about 10,000 testers, Elon Musk now says 10.69.1 will go to about 1,000 in the few first days, and if no major issues are found it would be deployed further.
First few days, just 1k owners, but going to 10k if no major issues.

Note, 10.69.2, hopefully going out week after this, is the wide release beta.

— Elon Musk (@elonmusk) August 29, 2022
One good thing about this release is that Tesla has updated FSD Beta to the .20 branch, giving testers a number of the new features that have been included in recent releases for non-beta testers like the seat belt system enhancement.
Another is that Tesla has reset the strikeout counter to zero, as promised by Musk over the weekend.
We have yet to receive any reports of the download appearing for owners in Canada, but if it has for you let us know in the comments below or email us at tips@driveteslacanada.ca.
You can read the full release notes here.