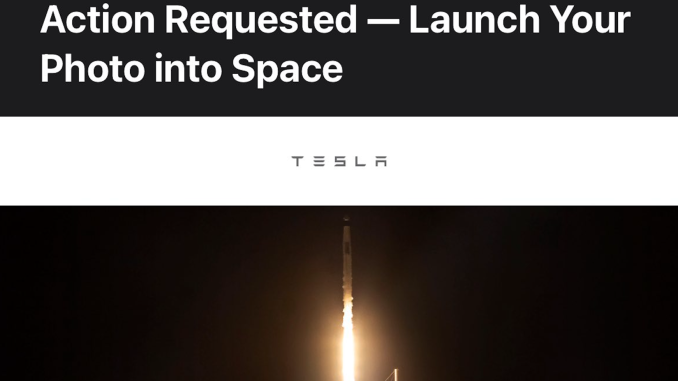 For a short three month period from October to December 2018, Tesla owners had the opportunity to send one of their photos into space, but only if someone purchased a Tesla using their referral link.
Almost four years later Tesla has followed through and begun notifying those owners who were able to convince someone to buy a Tesla that their photo will soon be going to space.
According to a copy of the email shared by Hunter Noel on Twitter, Tesla says owners have until June 30, 2022 to submit their photos.
The email does not say which SpaceX mission the photos will reach orbit on, but it could be on any of the launches planned every week for the remainder of the year.
Tesla has now sent out an email regarding a previous referral award. Send your picture to space! pic.twitter.com/BBycsTHzSB

— Hunter Noel (@HunterCNoel) June 3, 2022
This actually isn't the first time SpaceX has sent photos from fans into space. In 2020 a mosaic was flown to the International Space Station with NASA astronauts Bob Behnken and Doug Hurley on Crew Dragon spacecraft for the Crew Demo-2 mission.
The mosaic included photos of 100,000 students to celebrate the class of 2020.
On board Dragon will be a mosaic of graduates' images – congratulations, class of 2020! → https://t.co/MUoy64B1b0 pic.twitter.com/kH7aNyv50s

— SpaceX (@SpaceX) May 27, 2020