If you're looking to buy a new Tesla in Canada, the automaker now requires just $100 to secure your order.
Until tonight, customers north of the 49th parallel have had to pay a $2,500 deposit to place an order. The amount was fully refundable if you decided to change your mind.
Tesla has now adjusted that amount and all you have to pay upfront is $100. The payment is also now nonrefundable if you cancel your order.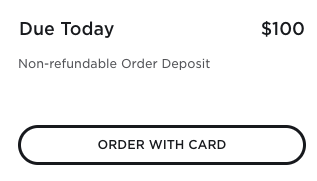 The order deposit amount now matches what customers in the US have been paying. When you take into account the exchange rate, it's actually less, coming out at $79.55 USD.
This wasn't the only change to Tesla's website tonight. In Canada the Standard Range (SR) Model 3 was added to the Design Studio. The price of the Model 3 and Model Y was also increased, but only in the US.