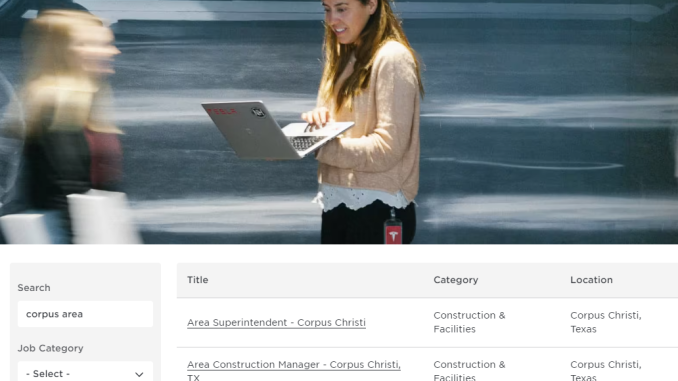 Tesla hasn't received the go ahead from local officials to build their proposed lithium refinery in Texas, but the company is confident that will happen and has published its first job postings related to the project.
Just a few months ago it was revealed that Tesla was considering building a lithium battery plant in Robstown, located a short drive away from Corpus Christi, Texas.
If approved the plant will be a battery-grade lithium hydroxide refining facility, the first of its kind in North America, with its product being shipped to Tesla's battery manufacturing plants.
Nueces County votes to create TIRZ for Tesla's proposed lithium refinery in Texas
The project is working its way through the approval process with local authorities, most recently heading behind closed doors for Tesla and Nueces County Commissioners to negotiate further on the $365 million facility.
A decision could come on December 7, when the County will consider approval of the agreement at the Nueces County County Courthouse.
Tesla apparently wants to move quickly after the decision is made and has published two construction related jobs for the project, an Area Construction Manager and Area Superintendent.
Both positions are based in Corpus Christi, and the job descriptions leave little doubt as to what they will be working on, explaining both roles will play "a critical role in construction of novel battery chemical plant(s) near Corpus Christi, TX."
"As Superintendent, you will be playing a critical role in construction of novel battery chemical plant(s) near Corpus Christi, TX. You will be a main coordinator of field operations and will need to work cross-functionally, interfacing with general contractors, subcontractors, manufacturing and construction engineering while driving a project's schedule and budgets," the superintendent job posting reads.
According to LinkedIn, the Area Construction Manager job posting was published on November 10, 2022, and the Area Superintendant posting was added one week later on November 17, 2022.
If the project is approved, construction of the $365 million project could start before the end of the year, and operations could begin in the fourth quarter of 2024.
It will create 250 construction jobs and another 162 high-paying permanent jobs in the area.
Here's a look at where Tesla is proposing to build the lithium refinery thanks to one of our readers Jessica Kirsh, who visited the site this past weekend. As you can see the land is already cleared and it looks like Tesla could begin construction almost immediately once approval is received.
Nueces County votes to create TIRZ for Tesla's proposed lithium refinery in Texas