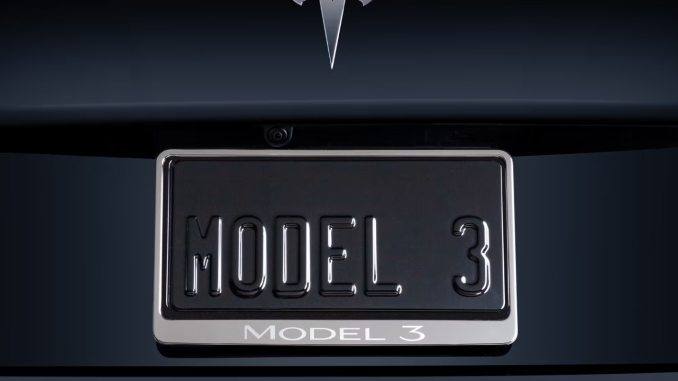 Tesla has made a number of changes to their vehicles over the years, making features and items that were once standard either an option or removing them altogether.
Sometimes these changes prove to be controversial, like removing passenger lumbar support because of what CEO Elon Musk said was a lack of use by customers.
Now the automaker has made yet another change by removing an accessory that was standard on the Model 3 and Model Y – a chrome license plate frame.
According to information obtained by Drive Tesla, deliveries of Model 3/Y vehicles built after August 6, 2022 will now come without a license plate frame. Since the change is tied to the vehicle build date and not delivery date, there will still be deliveries in the coming weeks with a frame as inventory is cleared out through the transition.
In an email to employees, Tesla says this change is being made to further remove chrome from these vehicle designs.
To somewhat compensate for this, we have also learned that Tesla will start selling a black license plate from in their online shop later this year. The Model S and Model X already have a black license plate frame which will still be included on all new deliveries.
If you really want the chrome license plate frame on your Model 3/Y, they are still available to order on the Tesla Shop for $50 CAD or $40 USD.
While they will no longer be including a license plate frame, Tesla has also added some new features this month to the Model Y like updating the door panels and adding matrix LED headlights to the Long Range variant. Unfortunately the new headlights is only a temporary change due to a current shortage of non-matrix headlights.