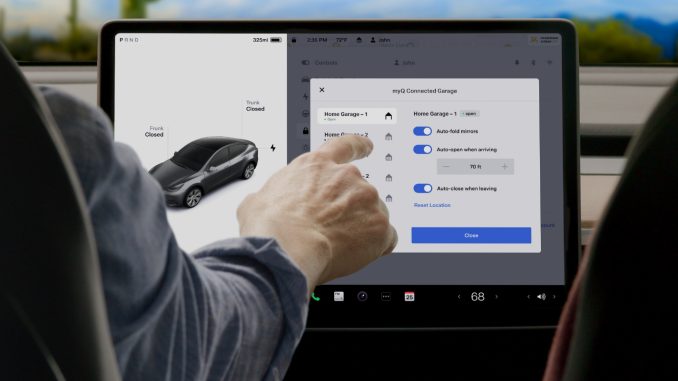 As part of their annual holiday update Tesla included the long-awaited support for WiFi garage door openers, partnering with Chamberlain to add myQ integration into their vehicles. The new feature allows owners to automatically open and close their garage door without the need to press any buttons, but it will come at a cost in the form of a subscription fee.
To give owners the opportunity to test out the myQ integration before deciding to subscribe, Chamberlain provided a free 30-day trial. According to an email sent out to Tesla owners this past weekend, that trial has been extended to allow Chamberlain to work out some bugs in their software.
In the email titled "Your myQ + Tesla free trial has been extended!" Chamberlain says the extra time is so that they can "continue to optimize the myQ Connected Garage service."
Giving a hint as to one of the issues with the software, Chamberlain says you can try unlinking and relinking your account from within your Tesla "if you are experiencing an error in your service." We have experienced this ourselves in our Model Y where the service is unable to connect and we are left unable to control the door, either automatically through the geofence or manually by pressing the on-screen button.
The email does not state for how long the free trial has been extended. Our account page still shows our free trial expiring 30 days after we activated it, and the myQ website still says the trial is only good for 30 days. When reached for comment by Drive Tesla, a Chamberlain spokesperson said they have no set date and will announce when the trial is expiring once they do.
Here is a full copy of the email. And don't forget to check out how to order the myQ hub to make your garage door compatible with this service for just $0.99 here. Unfortunately all stock in Canada is sold out at the moment, but the deal is still valid in the US.