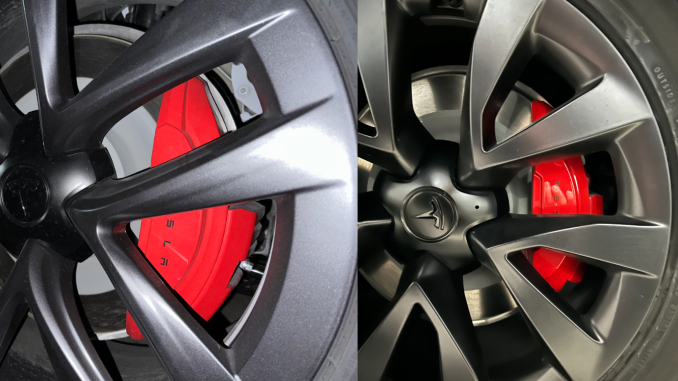 Last year Tesla switched brake component suppliers for the Model Y Performance, shifting from Brembo to Mando for the rear brakes on the top of the line electric SUV. The switch also meant the introduction of caliper covers, a move which did not sit well with Tesla enthusiasts and Model Y Performance owners, even if the change didn't have a major impact on brake performance for 99% of their driving habits.
While we haven't received word of a similar change to the brake component supplier for the Model S and Model X Plaid, it appears as though Tesla has also introduced caliper covers on their flagship vehicles, according to photos of newly built vehicles taken at the Fremont factory by The Kilowatts.
The change was actually first spotted by Zack (@BLKMDL3), who noticed that there appeared to be caliper covers in a photo of a Model S Plaid. Since this wasn't something The Kilowatts was keeping an eye out for (instead looking for new cameras), they decided to head back to Fremont later in the day and unfortunately confirmed Zack's suspicions, finding caliper covers on a Model X Plaid.
https://twitter.com/klwtts/status/1628242892853751808
Just like when the change took place on the Model Y Performance, neither the Model S or Model X Plaid have received any changes to their descriptions in the online configurator, with both still mentioning they come with "Higher Thermal Capacity Brake Pads."
Also just like with the change to the Model Y Performance, there have been no tests conducted to know how much of an impact this change has on what was already considered to be poor braking performance for such high powered cars as the Model S and Model X, although we are fairly certain it did not improve.
There is of course the $27,500 CAD/$20,000 USD Carbon Ceramic Brake Kit that owners could splurge for to have the braking power match the performance of the car, but this optional accessory is still unavailable on the Tesla Shop, but we expect it to go on sale soon based on recent updates to the vehicle's software.